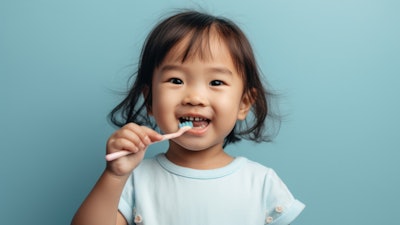 An "artificial enamel" ingredient in toothpaste restores enamel in teeth better than fluoride while fighting cavities, according to research published in BDJ Open.
Researchers at the University of Texas Health San Antonio School of Dentistry found that a synthetic version of the natural mineral hydroxyapatite successfully remineralized teeth affected by molar incisor hypomineralization (MIH), a developmental defect of enamel. MIH-affected teeth are softer, discolored, more porous, and sensitive.
The team reported that it engineered biomimetic hydroxyapatite, also known as artificial enamel, as the active ingredient in the toothpaste that was used in the study. The engineered version took a page from natural enamel crystallites of teeth.
The team compared the effectiveness of the synthetic mineral with maximum doses of fluoride in the double-blind study. The research team reported that the synthetic toothpaste performed significantly better than fluoride in remineralizing teeth (BDJ Open, December 10, 2022, 8, 33).
The researchers wrote that unlike fluoride, hydroxyapatite helps rebuild enamel while fighting tooth decay and providing better relief for tooth sensitivity. The study's authors added that the synthetic toothpaste is safe if swallowed, meaning it can be used by people of all ages.