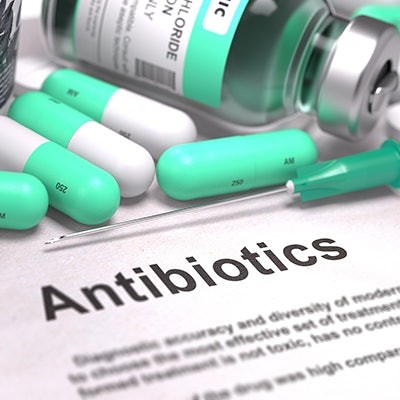 When it comes to prescribing prophylactic antibiotics to patients with prosthetic joints who are undergoing invasive dental procedures, dentistry and orthopedic surgery remain divided, according to a session at the 2022 Illinois Summit on Antimicrobial Stewardship.
Though there is no evidence that dental procedures cause prosthetic joint infections, the American Association of Orthopaedic Surgeons (AAOS) recommends the practice of prescribing antibiotics for all prosthetic joints for a patient's lifetime. But dentistry doesn't universally make that same recommendation, Dr. Elliot Abt said, a general dentist in private practice and a professor at the University of Illinois College of Dentistry.
During a session at the antimicrobial stewardship summit, Abt emphasized that dentists should not be writing antibiotic prescriptions for every patient with a prosthetic joint.
"If your patient wants the antibiotics because their orthopedic surgeons say they are needed (before they undergo dental procedures), they should get them from the orthopedic surgeon," Abt said. "The guidance states that dentists should no longer write these prescriptions."
Why antibiotics are a hot topic
Antibiotics are only appropriate for a very small population of people with prosthetic joints, Abt said. This population would include patients who are immunocompromised, those who have a history of a prosthetic joint infection, those who are undergoing a procedure that manipulates soft tissue, individuals who have multiple comorbidities, or patients who have received their prosthetic within the past year.
"These are not patients that are really likely to show up to a private dental practice," he said. "These are really patients that would be showing up to a hospital dental facility. So, again, it would be extremely unlikely for, let's say, a hygiene patient presenting to a dental practice to require antibiotic prophylaxis."
Rising antibiotic resistance has made prescribing the medications a source of debate in dentistry, especially as it applies to patients with prosthetic joints. In April, a group of dentists and doctors published a commentary in the Journal of the American Dental Association calling for the ADA and the AAOS to reevaluate the use of antibiotic prophylaxis for patients with prosthetic joints.
The request comes on the heels of a noteworthy study published in January that showed no meaningful relationship between invasive dental procedures and subsequent joint infections in patients in England, a country that never recommends prescribing antibiotics to prevent late-stage joint infections.
Based on the new findings, the authors of the commentary called on the ADA and AAOS to create a committee, review the data, and develop agreed-upon guidelines, which is something the associations haven't done since 2003.
What we still don't know about joint infections
Though it is known that dental procedures produce bacteremia, whether that oral bacteremia causes prosthetic joint infections isn't as clear.
"Well, we really don't have much to go on," Abt said. "Most of the early infections are staph (Staphylococcus). There are some late infections that are strep (Streptococcus). In some of the cases, those bugs are from the oral cavity, but it is a bit of a stretch right now (to think) that those late infections are caused by dental procedures."
What clinicians do know is that activities of daily living, like chewing and toothbrushing, also cause bacteremia. This also makes it difficult to determine what causes an infection, he said. In a nutshell, Abt said clinicians need to change the way they view antibiotic prescribing.
"I know there's a lot of practitioners that say, 'Well, I better give antibiotics for this prosthetic joint patient because if I don't, I could run into some legal jeopardy,'" Abt explained. "But I think we have to look at it the opposite way: I gave antibiotics, and the patient got sick."