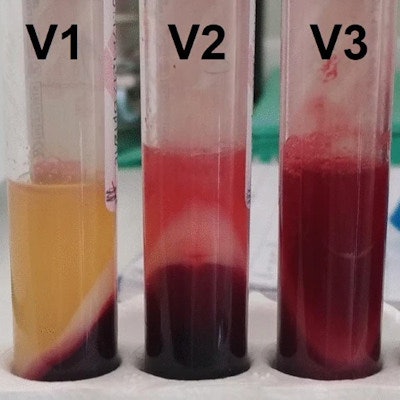 Using a platelet-rich fibrin (PRF) technique to deliver antibiotics may decrease the risk of postsurgical infection in oral surgery patients, according to a proof-of-concept study recently published in BMC Oral Health.
Additionally, delivering antibiotics via PRF may replace or enhance systemic antibiotic therapy while preserving the wound-healing properties of PRF. However, more studies are needed to prove that the strategy represents a feasible antibiotic delivery tool for oral surgery procedures, the authors cautioned.
"PRF could be prepared with antibiotic loading, and the drug is subsequently released from the membrane with an antimicrobial effect," wrote the authors, led by Dr. Francesco Bennardo of Magna Graecia University of Catanzaro in Italy (BMC Oral Health, March 9, 2023, Vol. 23, 134).
To reduce the use of unnecessary antibiotics, different drug delivery strategies, like directly targeting tissues, should be considered. Autologous products, like platelets and fibrin, have been used as drug delivery systems, and autologous concentrates have been shown to promote wound healing in regenerative medical and dental procedures.
To explore whether PRF was a natural carrier for antibiotic delivery, PRF was prepared using the leukocyte- and PRF technique. One tube was used as control while increasing amounts of gentamicin (0.25 mg, 0.5 mg, 0.75 mg, and 1 mg), linezolid (0.5 mg, 1 mg, 1.5 mg, and 2 mg), and vancomycin (1.25 mg, 2.5 mg, 3.75 mg, 5 mg) were added to the other tubes.
At various times, the solution was collected and analyzed. Strains of Escherichia coli (E. coli), Pseudomonas aeruginosa (P. aeruginosa), Streptococcus mitis (S. mitis), Haemophilus influenzae (H. influenzae), Streptococcus pneumoniae (S. pneumoniae), and Streptococcus aureus (S. aureus) were used to assess the antimicrobial effect of the PRF membranes containing the antibiotics and those without antibiotics, according to the study.
Though gentamicin and linezolid did not change the physical properties of PRF and were released from membranes in the intervals examined, vancomycin disrupted PRF formation, they wrote.
The PRF membrane that contained gentamicin showed significant antibacterial activity against all tested pathogens. The PRF membrane containing linezolid had antibacterial activity against the pathogens except for E. coli and P. aeruginosa. This effect was comparable to the control membrane, the authors wrote.
The study had limitations, including the lack of analysis of the release of growth factors. PRF could be prepared with antibiotic loading, and the study showed the medication subsequently was released from the membrane with an antimicrobial effect; however, more research is needed, the authors wrote.
"Further in vitro and in vivo studies are needed to prove that PRF loaded with antibiotics represents a topical antibiotic delivery tool for oral surgical procedures that promotes tissue healing and prevents local infection," Bennardo et al concluded.