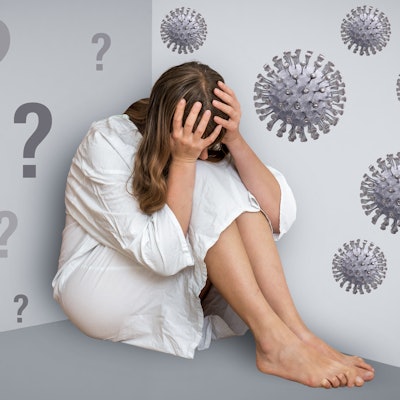 Dental teams at an oral medicine hospital in China did not develop COVID-19 while providing emergency dental treatment during the pandemic, likely due to increased infection control measures, according to a study published on September 27 in the Journal of Dental Research.
Though oral health professionals at the Hospital of Stomatology at Wuhan University did not develop COVID-19 while providing emergency treatments, a few clusters of COVID-19 cases occurred at other dental settings in China. Those oral health professionals did not take increased safety precautions while working with dental patients and were likely exposed when they were sent to work in fever clinics housing COVID-19 patients or had infections traced to family members, according to the authors.
"Comprehensive measures such as the use of advanced [personal protective equipment (PPE)] and environmental disinfection can prevent cross-infection in dental practice," wrote the authors, led by Liuyan Meng, PhD, of the School and Hospital of Stomatology at Wuhan University.
Maybe not so risky
Close contact; the spray of oral secretions, saliva, or blood; and aerosols generated by high-speed handpieces or ultrasonic dental instruments create a presumed risk of infection in dental practice. Dental hygienists have been labeled as most at risk for these reasons. Dental teams have stockpiled PPE, spaced out appointments to allow for more cleaning, and adhered to social distancing guidelines to combat COVID-19. Despite these measures, some oral health professionals and patients have been hesitant to return to practices.
Fortunately, the current study's results nearly mirror those of a study that analyzed the risk to dentists and dental assistants working during the pandemic in Italy. In that study, the occupational risk of dentists and dental assistants getting COVID-19 was estimated to be zero when they followed basic infection control protocols.
Details about the COVID-19-positive workers
Meng and colleagues analyzed data from 31 oral healthcare professionals, all of whom worked in places other than Wuhan's oral medicine hospital and were diagnosed with COVID-19. Most had mild to moderate COVID-19, while two cases were more serious with one resulting in death. The workers and the relatives of the one who died answered questions via phone and online questionnaires. Of the 22 women and nine men who were diagnosed with the disease, most of them routinely used PPE, including medical masks, gloves, and caps while performing clinical work.
Of the 19 who provided contact history, seven of the oral health professionals worked in fever clinics, five worked with dental patients who were suspected of having COVID-19, and seven had contact with family members who had COVID-19-related symptoms at least one day earlier. Eight had preexisting conditions, including diabetes and high blood pressure.
Staff at the hospital for oral medicine
In total, 320 staff members at the Hospital of Stomatology provided dental emergency treatment, including for apical periodontitis, impacted wisdom teeth, and tooth fractures, to 2,025 patients during the outbreak. Between January 23 and April 7, the dental workers wore advanced PPE, including N95 and KN95 masks when available, and maintained equipment and environmental disinfection measures. None developed COVID-19, according to the authors.
Though the study may help put clinicians and teams at ease, it had a few limitations, including the fact that the results are based on retrospective data. This may have led to a certain level of recall bias, the authors noted.
Already prepared
Though oral healthcare workers are presumed to be at greatest risk of infection, this was not shown in this case. Instead, those who worked at respiratory and emergency departments appeared to be most at risk, Meng and colleagues concluded.
"This may be related to dental practitioners' emphasis on hand hygiene, equipment and environmental disinfection, and routine PPE usage in dental practices even prior to the outbreak of COVID-19," they wrote.