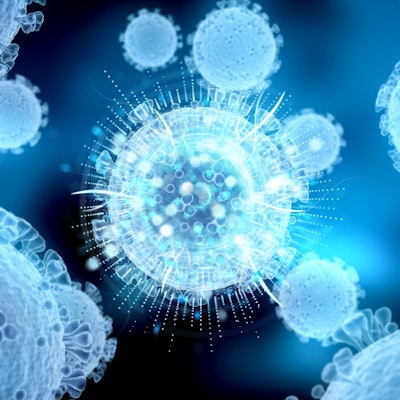 The prevalence of COVID-19 among U.S. dentists is estimated to be approximately 1%, indicating that infection control measures likely are enough to cut exposure risk at practices, according to a study published on October 15 in the Journal of the American Dental Association.
Though the origin of only a handful of cases could be traced, approximately 99% of dentists reported improving infection control protocols, likely preventing spread at practices. The majority reported adopting the simplest practices, such as screening patients and disinfecting surfaces more often.
"Dentists have always been used to following safety recommendations," said senior author Dr. Marcelo Araujo, PhD, CEO of the ADA's Science & Research Institute and the ADA's chief science officer, noting that he did not find the results surprising.
"The data seems to accurately reflect the expected behavior, considering that they receive plenty of science-based information from the ADA to make decisions on how to protect their patients and themselves," he said.
The needed boost
Though dentistry has seen a rather robust recovery following lockdowns and shutdowns due to the pandemic, COVID-19 continues to have a strong hold on the industry. Many patients have returned to their dentists, but some have said they won't return until they have assurances that practices are safe or the U.S. Food and Drug Administration approves a vaccine. Patient volume has climbed to about 80% of pre-COVID-19 levels, but many experts expect that figure to cap out at around 85%. These factors, as well as millions of unemployed individuals losing their employer-sponsored health and dental insurance, have dentistry searching for ways to maintain its recovery.
Fortunately, this evidence, which falls in line with recent data from overseas, may help. Dental teams in China and Italy appear to have faced a low risk of developing COVID-19 in dental settings when they implemented basic infection control measures.
Dentists and demographics
In the current study, approximately 2,200 licensed private practice and public health dentists from all 50 U.S. states and Puerto Rico responded to an online survey issued between June 8 and June 12. They answered questions about symptoms, testing, and diagnosis of COVID-19. The respondents were also asked to identify symptoms experienced in the prior month, or the period between May 8 and June 8; health conditions associated with COVID-19 severity; and dental and nondental activities during that period.
All dentists didn't answer every question, and some didn't finish the survey; the percentage missing ranged from 2.0% to 3.5% per question. About 60% of the respondents were men, and approximately 25% of all respondents had underlying conditions associated with a higher risk of severe illness with COVID-19.
Low numbers
Twenty dentists, or about 0.9% of the respondents, were found to be confirmed or probable COVID-19 cases. This figure had a margin of error of 0.5%. The dentists' infection rate was not only low but also on par with healthcare workers in the Netherlands (0.9%) and China (1.1%), according to the study authors.
The source of SARS-CoV-2 transmission was identified via a health agency or clinic's contact tracing in five cases. The dental practice was not the source of transmission in those cases. The other COVID-19-positive dentists could have contracted the virus from numerous activities, according to Araujo and colleagues.
The dentists reported engaging in the following activities during the study period:
Provided emergency dental care or elective care
Attended a healthcare visit for themselves or companions
Met with a person outside their households
Met with a group of 10 or more people in a social setting
Attended a public event with 50 or more people
Traveled by taxi, rideshare, or public transportation
Had contact with someone suspected or confirmed to have COVID-19
Beefing up infection control practices is believed to be the game changer in curbing the spread of SARS-CoV-2. In this study, 99.7% of dentists enhanced their protocols by increasing disinfection, screening patients, implementing social distancing, and requiring the use of face masks. Approximately 73% of practicing dentists used personal protective equipment (PPE) according to interim guidance issued by the U.S. Centers for Disease Control and Prevention (CDC). However, only 12% had patients use preprocedural mouth rinses and 4% used extraoral suction devices, according to the authors.
Not perfect
The study did have limitations, Araujo and colleagues noted. The survey response rate of 40% was higher than average; however, nonrespondents may differ from respondents. This could reduce the validity and generalizability of these results. Also, the sample may further be subject to selection bias, leading to an underestimation of COVID-19 prevalence or severity because dentists who have died or been hospitalized with the novel coronavirus, for example, may be less likely to participate, they wrote.
As for the diversity of the respondents, Araujo believes the study offers an accurate reflection of COVID-19 prevalence among dentists in the U.S. despite about 79% of respondents being non-Hispanic white. Evidence has shown that ethnic minority groups are disproportionately affected by COVID-19.
"We compared our survey respondents to dentists nationally, and they were only off by, at most, 10% in any category. 79.2% of survey respondents were non-Hispanic white, for instance, compared to 71.4% of private practice and public health dentists nationally," he said. "But since there were differences, we weighted the surveyed COVID-19 results so they more accurately reflected dentists nationally. I do think this is an accurate estimate of COVID-19 prevalence among dentists in the U.S."
To gain a fuller picture, the authors are collecting similar information from dental hygienists in collaboration with the American Dental Hygienists' Association.
"The data will be published in the near future," he said.
A start
Despite these factors, the study shows that dentistry is doing what it needs to do to flatten the curve, according to the authors.
"These rates support that use of the CDC's currently recommended infection prevention and control procedures in dental offices will contribute to the reduced risk of infection during the delivery of dental care, while risks associated with nonclinical activities and community spread may pose the most significant risks for the exposure of dentists to COVID-19," they wrote.