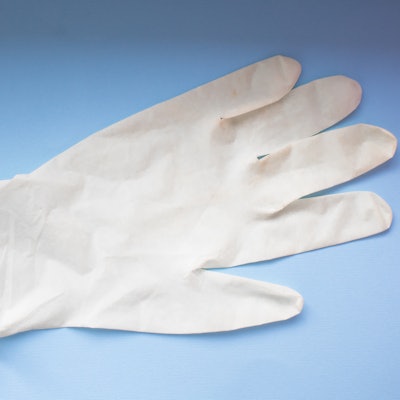 Surgical gloves may come in handy for more than just infection control. Sterilized gloves can be used to remove damaged dental screws from patients, according to a technical note published online September 11 in the Journal of Stomatology, Oral and Maxillofacial Surgery.
The authors described the placement of a piece of sterilized surgical glove over an angled screwdriver, allowing them to remove a stripped dental screw that was used with a miniplate.
With this method, the "stripped screw may be removed easily," wrote the group, led by Dr. Satomi Sugiyama of the department of oral and maxillofacial surgery and orthodontics at Yokohama City University Hospital in Japan.
During oral and maxillofacial surgeries, titanium miniplate fixation is often performed. Angled screwdrivers are used to attach screws and miniplates in procedures such as osteosynthesis in bilateral sagittal split osteotomy or open treatment of mandibular angle or subcondylar fracture.
However, removing miniplates is challenging, and it is more difficult when angled screwdrivers need to be used. When a clinician uses excessive torque, the screw holding the plate in place may break or become damaged. Until now, removal methods have been time-consuming or required special tools, according to the authors.
After clinicians encountered a damaged screw head while trying to remove a miniplate with an angled screwdriver, they came up with a way to boost the grip strength between the screw and the tool. To do so, they cut off one of the fingers of a sterilized surgical glove and placed it over the head of an angled screwdriver. The piece of the glove helped the clinician easily release the damaged screw with the screwdriver, they wrote.
Though the method has been used in at least 10 cases, the technique was not helpful for screws that had been implanted for several years, the authors noted.
"Our method with the sterilized surgical glove does not require the special device, and the stripped screw may be removed easily even when an angled screwdriver is used," Sugiyama and colleagues wrote.