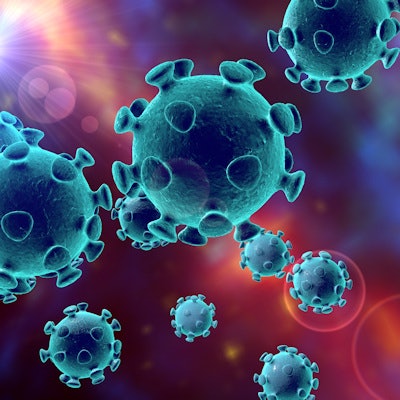 High bacterial loads in the mouth may be the reason why some otherwise healthy patients experience more severe SARS-CoV-2 infections, according to a new article published on June 26 in the British Dental Journal.
Clinicians should encourage patients with SARS-CoV-2 infection to maintain, if not improve, their oral hygiene to reduce the amount of bacteria in the mouth and lower their potential risk of getting bacterial superinfections, the authors wrote.
"Bacteria present in patients with severe COVID-19 are associated with the oral cavity and improved oral hygiene may play a part in reducing the risk of complications," wrote the group, led by Victoria Sampson, BDS, of the 38 Devonshire Street practice in London.
As of July 2, there have been about 2.7 million cases of COVID-19 and about 128,000 deaths in the U.S., according to data compiled by Johns Hopkins University. Some of the deaths were attributed to age and comorbidities, including diabetes, obesity, cardiovascular disease, or hypertension. However, it is unclear why about half of the deaths have occurred in seemingly healthy patients.
The oral microbiome may play a role in bacterial superinfections and severe complications, such as pneumonia, acute respiratory distress syndrome, and sepsis, which often occur after patients are diagnosed with SARS-CoV-2.
The four main comorbidities associated with heightened risks of complications and death from COVID-19 also are linked with altered oral biofilms and periodontal disease. This suggests a possible connection between poor oral health and the severity of SARS-CoV-2 infections, the authors wrote.
The bacteria that cause periodontitis not only are connected to systemic inflammation, pneumonia, and death but also are present in the metagenome of patients severely infected with SARS-CoV-2. These patients had high levels of Prevotella, Staphylococcus, and Fusobacterium, according to the authors.
Clearly, bacterial superinfections are common in patients with respiratory diseases such as COVID-19 and pneumonia, but they are not studied enough due in part to diagnostic complexity. More research should be performed on bacterial superinfections and their possible connections between the oral microbiome and COVID-19 complications, they wrote.
"We recommend that poor oral hygiene be considered a risk to [postviral] complications, particularly in patients already predisposed to altered biofilms due to diabetes, hypertension or cardiovascular disease," they concluded.