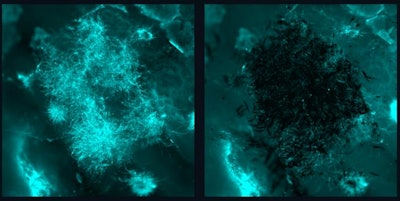 Images courtesy of Min Jun Oh and Seokyoung Yoon.
A new nanozyme-based robotics approach could allow doctors to target and kill fungal pathogens at the sites of infection, according to a group at the University of Pennsylvania.
A team led by Dr. Hyun Koo, PhD, and Edward Steager, PhD, developed a nanozyme-based microrobotic platform that initiates localized catalysis in infection sites, which results in rapid fungal killing. The study was published recently in Advanced Materials.
"Structured nanozyme assemblies are directed to [Candida albicans]-infected sites using programmable algorithms to perform precisely guided spatial targeting and on-site catalysis, resulting in fungal eradication within 10 minutes," the group wrote (Adv Mat, May 4, 2023).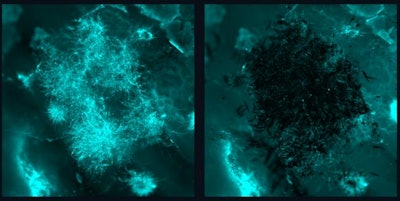 Fungal pathogens have been designated by the World Health Organization as microbial threats of the highest priority for global health. However, improving antifungal efficacy at the site of infection while avoiding off-target effects, fungal spread, and drug tolerance remains a major challenge, the authors explained.
To that end, the group developed a method using catalytic nanoparticles known as nanozymes. These enzymelike nanoparticles have metallic properties and may be thought of as miniature robotic systems that can be directed with magnets to precise locations of infections. Once the nanozymes are directed to the site, they elicit a response from reactive oxygen species, natural molecules that can destroy pathogens.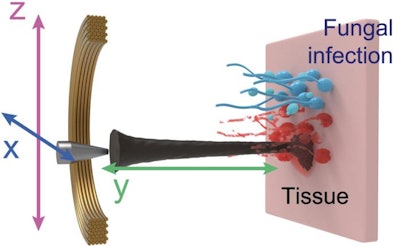 "Our nanozyme assemblies show an incredible attraction to fungal cells, particularly when compared to human cells," Steager said in a news release from the university. "This specific binding interaction paves the way for a potent and concentrated antifungal effect without affecting other uninfected areas."
Ultimately, the magnetic and catalytic properties of the approach and the binding specificity to fungi they described in the study open an opportunity for an automated "target, bind, and kill" approach that could be eventually deployed clinically, Koo noted.
"We've uncovered a powerful tool in the fight against pathogenic fungal infections," he said.