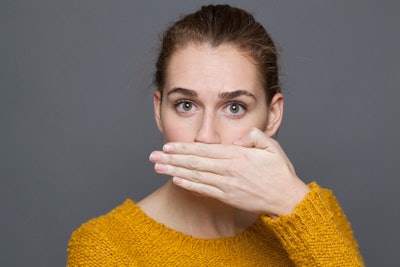 Patients with bad breath may be more introverted and more likely to experience social avoidance and distress compared to those who don't have halitosis, according to a study published on March 28 in Oral Diseases.
Therefore, an analysis of patients' psychological conditions is important in addition to treating their bad breath, the authors wrote.
"Analysis of the personality traits of patients with objective halitosis is suggested to help physicians determine their psychological status and discuss appropriate topics and related psychological counseling," wrote the authors, led by Dr. Wei Ye of Shanghai Jiao Tong University in China.
Worldwide, it is estimated that up to 65% of people experience halitosis. Some studies have suggested that the psychological statuses of patients with bad breath are related to personality. However, studies about personality are limited, and the assessment scales used in the research are not uniform, the authors wrote.
To explore the association among personality traits, psychological conditions, and halitosis, researchers conducted a study of 280 patients. Of those, 146 were diagnosed with halitosis, while 134 who didn't have bad breath were in the control group. To understand their psychological conditions and personality traits, patients were administered the Eysenck Personality Questionnaire (EPQ) and the Social Avoidance and Distress Scale (SAD), according to the study.
In the EPQ subscale, the extraversion score in the participants with bad breath was significantly lower compared to those in the control group (51.82 ± 9.86 versus 55.93 ± 10.57, p = 0.001). Additionally, on the extraversion subscale, about 18% of those in the halitosis group typically were introverted and tended to be introverted more than the control group (approximately 13%).
Between the two groups, the extraversion subscale was statistically significant (p = 0.012), the authors wrote. Additionally, there was a negative correlation between the extraversion subscale and the total SAD subscales (p < 0.001), they wrote.
Nevertheless, the study had several limitations. Information about patients' oral hygiene habits was not included in the research, the authors wrote. Since patients with halitosis may have more introverted personalities, dentists may want to collaborate with other healthcare professionals, the authors wrote.
"The mental health of patients with objective halitosis deserves our attention and requires the intervention of the psychologist," Ye et al concluded.