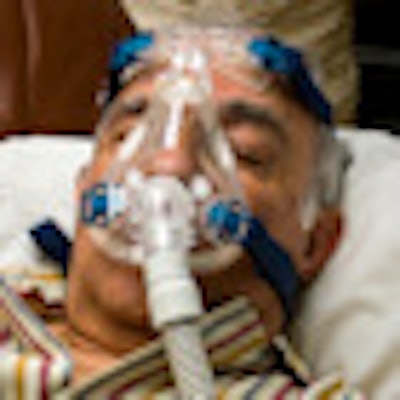 NEW YORK (Reuters Health) - Early treatment of obstructive apnea (OSA) with nasal continuous positive airway pressure (nCPAP) may speed recovery from ischemic stroke, researchers from Spain say.
Previous studies of nCPAP in the management of stroke have yielded inconsistent results, the researchers say, although in a recent study of patients with moderate to severe OSA, nCPAP started in the stable phase of stroke was associated with a reduction in the excess mortality seen in OSA patients.
In a randomized trial, Dr. Olga Parra from Universitat de Barcelona and colleagues assessed the benefits of early nCPAP treatment on functional outcome, quality of life, and rates of new cardiovascular events and mortality in 235 patients with first-ever ischemic strokes.
More than half these patients (140/235) had an apnea-hypopnea index (AHI) of at least 20 and were randomized to an nCPAP group or a control group. Twenty of the 71 patients (28.2%) assigned to nCPAP, however, refused it due to machine discomfort.
In their September 16 online paper in the European Respiratory Journal, the authors report on 57 patients assigned to the nCPAP group and 69 from the control group.
Significantly more patients in the nCPAP group (90.5%) than in the control group (56.3%) had improvements in neurological assessments at one month, and almost all mean scores of the neurological scales and the physical and mental component summaries of the short form (SF)-36 quality of life tool were better (albeit not significantly) in the nCPAP group than in the control group.
Beyond one month, though, results between the groups did not differ significantly. The investigators say that this was "probably because patients in both groups were already recovered from the acute phase of stroke."
Cardiovascular mortality rates did not differ significantly between the groups, but mean time from stroke onset until the appearance of the first cardiovascular event was significantly longer in the nCPAP group than in controls (14.9 versus 7.9 months).
At 24 months, there was no difference in overall cardiovascular event-free survival between nCPAP (87.7%) and control (88.4%) groups.
In univariate and multivariable analyses, none of the variables analyzed were associated with cardiovascular events or mortality.
"Although one concern is choosing the moment for starting nCPAP treatment given neurological deficits, including facial palsy, and impaired psychological status of stroke patients immediately after stroke," the authors conclude, "early use of nCPAP may prevent recurrent hypoxemia and cerebral flow fluctuations due to apnea that could damage the area of ischemic penumbra and, therefore, affect prognosis. In this case, nCPAP could exert a beneficial influence in the acute phase."
Source: https://link.reuters.com/bes47p
Eur Respir J 2010.
Last Updated: 2010-10-07 17:20:09 -0400 (Reuters Health)
Copyright © 2010 Reuters Limited. All rights reserved. Republication or redistribution of Reuters content, including by framing or similar means, is expressly prohibited without the prior written consent of Reuters. Reuters shall not be liable for any errors or delays in the content, or for any actions taken in reliance thereon. Reuters and the Reuters sphere logo are registered trademarks and trademarks of the Reuters group of companies around the world.