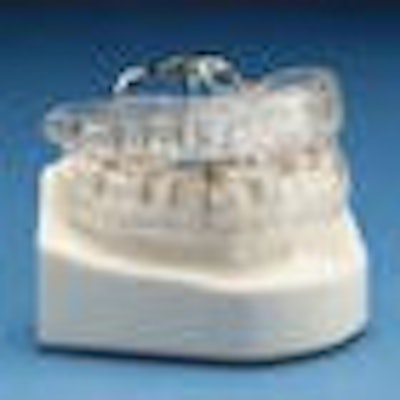 Part 1 of this two-part series focused on how to screen for sleep-related disorders and the need for dentists and physicians to be better educated about these conditions.
Once obstructive sleep apnea (OSA) has been properly diagnosed, treatment will vary depending upon the severity of the condition. Some people can manage their OSA with lifestyle changes such as losing weight, limiting exposure to tobacco smoke and alcohol, managing seasonal allergies, and sleeping on their sides rather than their backs.
If these lifestyle changes are ineffective, the main treatment options include the following:
A positive airway pressure (PAP) device titrated to the individual patient's needs and worn over the nose and/or mouth during sleep
Oral appliances much like retainers or mouthguards custom-designed by dentists trained in sleep dentistry
Surgery by oral maxillofacial surgeons addressing the areas of obstruction
Continuous positive airway pressure (CPAP) will often be tried first as the treatment of choice, especially with moderate to severe OSA. First developed in the early 1980s, CPAP quickly became the standard treatment for OSA. By way of a mask, often just covering the nostrils, pressurized air keeps the airway open, eliminating the upper pharyngeal closures that interfere with oxygen levels and disturb sleep.
Other PAP devices sometimes used with OSA patients are BiPAP or VPAP (bilevel/variable positive airway pressure), which is programmed with both inspiratory and expiratory pressure, and AutoPAP or APAP (automatic positive airway pressure), which performs continuous readings and delivers the minimum pressure to keep the airway open at any given time.
Unfortunately, patient compliance with CPAP is low. The American Academy of Dental Sleep Medicine (AADSM) estimates that 25% to 50% of sleep apnea patients don't tolerate or comply with CPAP treatment. Feelings of claustrophobia, difficulty using the mask and machine, and lack of understanding of the benefits are reasons cited by patients for abandoning CPAP, often early in treatment (Oral and Maxillofacial Surgery Clinics of North America, November 2009, Vol. 21:4, pp. 403-412).
Oral appliance therapy
For patients with mild to moderate sleep apnea, or patients with more severe OSA who decline or cannot tolerate PAP therapy, oral appliance therapy (OAT) may be indicated. Dentists trained in dental sleep medicine design devices for patients that often look similar to mouthguards or retainers.
OAT devices generally function by repositioning or stabilizing the lower jaw or the tongue, encouraging the upper airway to stay open. This repositioning increases the size of the airway, but may also increase the upper airway muscle tone, which is believed to contribute to less airway collapse (Sleep, February 2006, Vol. 29:2, pp. 244-262).
The two main types of OAT devices are mandibular repositioning or advancement appliances and tongue retaining appliances or devices. Regardless of which is used, some key points need to be considered when fitting an oral appliance, according to Ronald Attanasio, D.D.S., M.S.Ed., M.S., director of the TMD and Orofacial Pain Clinic at the University of Nebraska and co-author of Dental Management of Sleep Disorders.
"Are there enough remaining teeth to fit an oral appliance, versus a person missing some of their teeth or all of their teeth?" Dr. Attanasio said. "There are appliances for those patients too, called tongue retaining devices, and they look like a pacifier that grabs onto the tip of the tongue."
The provider also needs to look at wear areas on the teeth, he advised. Bruxism forces can break an oral appliance, he noted, but appliances can be selected that have more lateral movement to allow for patients with bruxism. The dentist also needs to look at the sleep study itself.
"Practicing oral appliance therapy safely and effectively requires continuous collaboration with physicians and sleep specialists and demands in-depth knowledge of comorbid medical conditions that can affect treatment outcomes," noted Sheri Katz, D.D.S., president-elect of the American Academy of Dental Sleep Medicine, in an e-mail to Dr. Bicuspid.com.
OAT can be effective for simple snorers, but there's no way to verify that someone is only snoring without medical diagnosis.
"Oral appliance therapy to treat OSA must be carried out in partnership with the patient's medical doctor because it is a serious medical condition," Paul McLornan, B.D.S., M.S., an assistant professor in the department of prosthodontics at the University of Texas Health Science Center at San Antonio, told Dr. Bicuspid.com. "If the patient is diagnosed as a simple snorer, the dentist can treat that patient without medical follow-up."
For the OSA patient, the OAT will be adjusted or "titrated" over a period of weeks, then another polysomnogram or overnight oxygen saturation measurements will be used to assess the efficacy of the treatment, with regular follow-up by the doctor and dentist for treatment efficacy every six months to a year.
Surgical options
For patients with moderate to severe OSA who cannot tolerate PAP therapy, surgery can be the best treatment option (Otolaryngology–Head and Neck Surgery, August 2009, Vol. 141: 2, pp. 257-263).
Surgical options for OSA 30 years ago consisted of tracheotomy, which saved lives but was not well tolerated. In the early 1980s, uvulopalatopharyngoplasty (UPPP) was introduced, and it has become a common surgery for OSA (Clinical and Experimental Otorhinolaryngology, September 2009, Vol. 2:3, pp. 107-114). Currently, laser-assisted uvulopalatopharyngoplasty is often performed, allowing for even quicker recovery times than traditional UPPP.
Another common surgery is maxillomandibular advancement (MMA). Although more invasive than UPPP, it is believed by some to be more effective (Journal of the American Dental Association, November 2002, Vol. 133:11, pp. 1489-1497). Some surgeons recommend that MMA should be used more often to treat patients with moderate to severe OSA, rather than only for those with skeletal anomalies (International Journal of Oral and Maxillofacial Surgery, June 2010, Vol. 39:6, pp. 541-547).
To locate the source of the obstruction prior to surgery, CT and MRI are commonly used. Cephalometric evaluations performed by oral and maxillofacial surgeons and orthodontists can also be very useful for screening and assessment purposes (Oral and Maxillofacial Surgery Clinics of North America, November 2009, Vol. 21:4 , pp. 389-402).
More education needed
In the long run, physicians and dentists need to be better educated about obstructive sleep apnea -- what it is, how to spot it, and the best treatment approaches based upon each patient's individual needs.
"The dentist may not want to practice this, but they should at least be aware of it," Dr. Attanasio said. "There is a push by the medical profession to have dentists recognize more than cavities and bleeding gums, to be more systemically oriented."
OSA should be a standard part of dental and medical school curricula, he added. "But for those of us who are already practicing, we need to take the appropriate continuing education [CE] classes," he said.
The Tufts University School of Dental Medicine offers a course on dental sleep medicine to postgraduates and practicing dentists. In addition, the AADSM and other organizations offer sleep medicine CE courses.
"There are no graduate programs in sleep disorders yet," said Dr. Attanasio, noting that dental sleep medicine is also not an ADA-recognized specialty. "I hope to see that in my lifetime."
Copyright © 2010 DrBicuspid.com