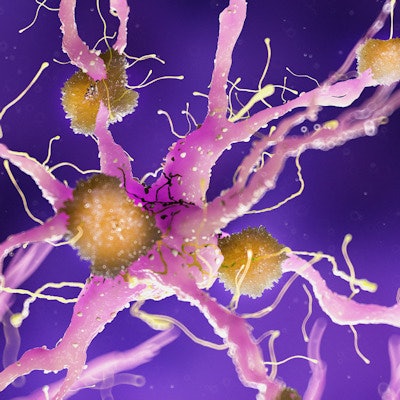 Cognitively healthy adults who have more harmful oral bacteria may be at greater risk of having a key Alzheimer's disease biomarker, according to a study published on April 12 in Alzheimer's & Dementia: Diagnosis, Assessment & Disease Monitoring.
Researchers found the Alzheimer's disease biomarker beta amyloid 42 in the cerebrospinal fluid (CSF) of healthy older adults, adding to growing research that indicates periodontal disease is linked to this type of dementia. This is believed to be the first study to show the association between bacteria found at the gumline and the biomarker in older people with no signs of cognitive decline, the authors wrote.
There is a "selective relationship between periodontal disease bacterial dysbiosis and CSF biomarkers of amyloidosis," wrote the group, led by Dr. Angela Ruth Kamer, PhD, an associate professor of periodontology and implant dentistry at New York University College of Dentistry.
Beta-amyloid plaque is one of two key biomarkers of Alzheimer's disease. Patients with Alzheimer's disease consistently show lower beta-amyloid 42 levels in cerebrospinal fluid, which translates to higher amyloid levels in the brain. Amyloid deposits in the brain are thought to be the first pathological feature in the preclinical phase of Alzheimer's disease, occurring decades before cognitive dysfunction.
While the causes of Alzheimer's disease are not completely understood, research has shown that inflammation, infections, and bacterial dysbiosis of the oral cavity may play a role in its development. In addition, evidence suggests that periodontal bacteria presenting with oral inflammation may gain access to the rest of the body and affect distant sites, including the heart, liver, and brain.
To study the association between oral health and brain amyloid levels, the researchers recruited 48 healthy people ages 65 and older who did not have signs of cognitive impairment. They collected bacterial samples from under the gumline and performed lumbar punctures to measure levels of beta amyloid in their cerebrospinal fluid. The participants also underwent a batch of medical and psychological tests that included genotyping and magnetic resonance imaging (MRI) exams.
The presence of brain amyloid was associated with increased levels of harmful oral bacteria and decreased levels of healthy bacteria. Levels of harmful periodontal bacteria, such as Fretibacterium, Prevotella, and Dialister, were increased in the amyloid-positive group, while healthy oral bacteria, such as Corynebacterium, Actinomyces, and Capnocytophaga, were more prevalent in the amyloid-negative group.
Furthermore, higher subgingival periodontal dysbiosis was associated with reduced beta-amyloid 42 levels. Participants with beta-amyloid 42 levels less than 571 pg/mL had higher oral dysbiosis index scores than those with more normal beta-amyloid 42 levels.
"Our results show the importance of the overall oral microbiome -- not only of the role of 'bad' bacteria, but also 'good' bacteria -- in modulating amyloid levels," Kamer stated in a university press release. "These findings suggest that multiple oral bacteria are involved in the expression of amyloid lesions."
While the study's design did not allow the authors to determine causation, they concluded that both harmful and helpful bacteria play a role modulating beta-amyloid levels. Though additional modeling is needed to establish a direct link, it is critical to remember that an imbalance in bacteria can be prevented and treated, they wrote.
"Periodontal dysbiosis can be changed with treatment, thereby offering hope that [beta-amyloid] accumulation may be prevented, slowed, or even reversed," Kamer and colleagues concluded.