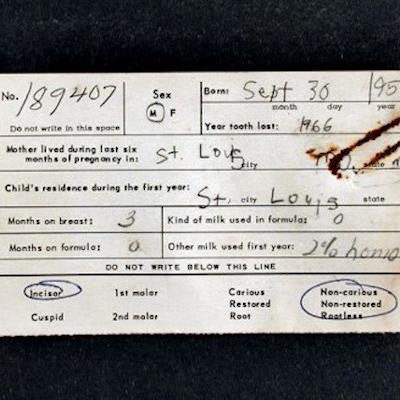 A documentary is being made about the Baby Tooth Survey in St. Louis, a famous study from the 1950s that used donated deciduous teeth to investigate radiation exposure, according to a story published in the Riverfront Times.
This summer, Hideaki Ito, an independent Japanese filmmaker who has created other films about nuclear tests, will travel to St. Louis to begin his research on the infamous survey that explored whether above-ground nuclear weapons testing conducted during the Cold War exposed people to radiation. The 61-year-old filmmaker grew up in Japan near Hiroshima, where the atomic bomb was dropped on August 6, 1945, according to the story.
The Baby Tooth Survey was created in 1958 following earlier evidence that showed the isotope strontium-90, which is a byproduct of nuclear fallout, followed the common absorption pathways of calcium collected in cow's milk, which children drank while their baby teeth were developing.
The survey revealed that children born in 1963 had 50 times more strontium-90 in their teeth than children born in 1950, which is before most nuclear bomb testing occurred. These findings also accelerated the passage of the Nuclear Test Ban Treaty. The treaty, which was signed in Moscow in 1963 by President John F. Kennedy and leaders from the U.K. and Soviet Union, banned testing anywhere except underground.
Currently, researchers from Harvard University's T.H. Chan School of Public Health are using the approximately 100,000 baby teeth collected from the St. Louis survey to study cognitive decline in older age. The donated teeth, which were tucked away in an old ammunition bunker at Washington University in St. Louis and forgotten until about 20 years ago, are being used to study how early exposure to heavy metals may be linked to neurodegeneration.
Ito will be in St. Louis in July to talk with the donors of the baby teeth or anyone else involved with the survey. Anyone interested should email him at burkeshiho@gmail.com, according to the story.