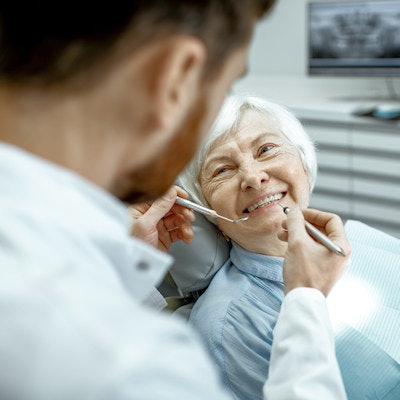 Yet another study has linked periodontal and Alzheimer's disease. The bacteria behind periodontal disease may also contribute to the development of Alzheimer's, according to a review published on July 21 in the Journal of Dental Sciences.
Until now, studies analyzing the association between the diseases have lacked clarity on the role of the oral microbiome. In their analysis of 26 studies using databases or the next-generation sequencing technique, researchers reaffirmed the link between periodontal disease and Alzheimer's. The findings suggest that Gram-negative bacteria may play a role in the development of Alzheimer's, although researchers couldn't confirm a causative relationship.
"Epidemiologic research and post-mortem studies showed that the presence of periodontitis is associated with cognitive decline, suggesting a possible role of periodontal pathogens in the pathogenesis of AD [Alzheimer's disease]," wrote the study authors, led by Samantha Mao from the department of dentistry at Sijhih Cathay General Hospital in Taiwan (J Dent Sci, July 21, 2022).
Age, genetic susceptibility, neuropathology, and infection are all accepted causes of Alzheimer's. While research has shown a link between periodontal disease and cognitive decline, whether Alzheimer's leads to periodontitis or periodontitis is a contributing factor to Alzheimer's remains unconfirmed.
The latest review results once again confirm that the presence of periodontitis is associated with cognitive decline. Although the review couldn't determine a causative relationship, Gram-negative bacteria appeared more abundant in patients with Alzheimer's. Researchers hypothesized that this type of bacteria could serve as a catalyst for amyloid plaque formation, which are thought to play a key role in Alzheimer's.
Other studies have had different hypotheses about the relationship between periodontal disease and Alzheimer's. Some research suggests that periodontal pathogens may travel from the mouth to the brain, causing inflammation and eventual destruction of brain tissue. Other studies have concluded that dementia affects a patient's ability to maintain good oral hygiene, and, therefore, patients with Alzheimer's may be more prone to periodontal disease.
To gain a deeper understanding of the role of oral bacteria in Alzheimer's, more consistent microbiome studies are needed. In this study, the reported microbiomes were inconsistent, which may be due to the varying sampling sites and differences in cognition standards.
The researchers urge that a standardized sampling site and cognitive test should be implemented. Further, early-onset and late-onset Alzheimer's should be discussed separately, as they have differing etiologies.
"Additional large-scale studies with periodontal intervention and longitudinal follow-up are warranted to clarify the relationship between periodontal disease and AD," Mao et al wrote.