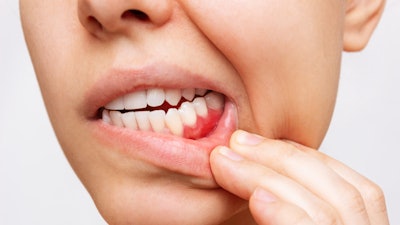 Parkinson's disease raises the bleeding and inflammatory burden in periodontal tissues in concert with the systemic neuroinflammation associated with the chronic neurodegenerative disease. The study was published on July 11 in the Journal of Periodontology.
The study suggests a critical and new demonstration of a bidirectional association between the neuroinflammatory process of Parkinson's disease and the inflammatory pathologies linked to gum disease. Both diseases may greatly worsen each other's pathogenetic progression and severity, the authors wrote.
"PA (Parkinson's disease) is highly associated with increased periodontal inflammatory burden -- bleeding upon probing and inflammatory markers -- in parallel with PA-related neuroinflammation," wrote the authors, led by Dr. Alpdogan Kantarci, PhD, of the Forsyth Institute in Cambridge, Massachusetts (J Periodontol, July 11, 2023).
The role of inflammation
Patients with gum disease are more vulnerable to systemic diseases, including heart disease and rheumatoid arthritis. More recently, brain diseases like Alzheimer's disease have been linked to enhanced periodontal disease, which could be an association functioning in two directions. It is possible that periodontal germs and inflammatory mediators activate microglial cells in the brain leading to neuron loss and contributing to neurodegeneration.
Research that explores whether neuroinflammatory markers are linked with periodontal disease is limited. Indirectly, there is a link to the inflammatory process underlying the periodontal disease mechanisms. For example, YKL-40 is induced by proinflammatory cytokines through the STAT3 signaling pathway, while fractalkine is induced by proinflammatory mediators during inflammation.
Higher levels of fractalkine and interleukin-1 beta have been reported in the gingival crevicular samples of those with periodontal disease. This finding suggests an abundance of inflammatory cytokine and chemokine in local and systemic diseases. Therefore, the systemic inflammatory burden of brain inflammation caused by Parkinson's also may be a risk for rising gum inflammation, they wrote.
To investigate whether Parkinson's disease may be related to periodontal inflammation, the levels of neuroinflammatory mediators were measured in the serum, saliva, and gingival crevicular fluid (GCF) samples of 60 patients. Of the patients, 20 were healthy, 20 had periodontitis, and 20 had Parkinson's disease and periodontitis. Those with Parkinson's had mild to moderate dysfunctions that didn't prevent them from maintaining good oral hygiene, according to the study.
The inflammatory and neurodegenerative targets YKL-40, fractalkine, S100B, alpha-synuclein, tau, vascular cell adhesion protein-1, brain-derived neurotrophic factor, and neurofilament light chain (NfL) were measured, the authors wrote.
In those with periodontitis and those with gum disease and Parkinson's, periodontal parameters and GCF volume were significantly higher. Also, Parkinson's disease correlated with significantly elevated bleeding on probing compared to individuals with just periodontitis (p < 0.05), they wrote.
However, other clinical parameters were similar between the groups. In saliva and serum samples, YKL-40 levels were higher in the patients with Parkinson's and periodontitis than in those with gum disease and in the control groups (p < 0.001). GCF NfL levels from shallow sites were significantly higher in those with gum disease and Parkinson's disease compared to the control group (p = 0.0462). Compared to healthy individuals, GCF S100B levels from deep gingival sites were higher in the patients with Parkinson's disease and periodontitis (p = 0.0194), the authors wrote. Moreover, the study was not without limitations, including its smaller sample size, they wrote.
A link worth remembering
Nevertheless, the study has important clinical implications, showing the bidirectional association between the diseases, Kantarci et al wrote.
"PA increased periodontal inflammation, which could be measured by the specific and non-specific markers of neuroinflammation," they concluded.