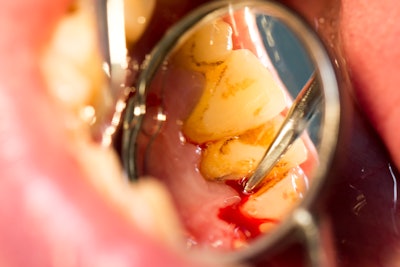 Researchers from Regenstrief Institute and Indiana University School of Dentistry have developed computer algorithms to track periodontal disease change. Their findings were published in Diagnostics.
The team, led by Thankam Thyvalikakath, PhD, also developed tools that make way for the use of electronic dental record data to automate diagnosis of periodontal disease.
Data from the U.S. Centers for Disease Control and Prevention (CDC) suggest that about 47% of adults aged 30 years and older and about 79% of adults 65 years and older have some form of periodontal disease. Gingivitis is typically part of the early stage of the disease, where gums are swollen, red, and may bleed. In the advanced stage, the gums can pull away from the teeth, leading to bone loss or tooth loss.
In its study of 28,908 patients, the team found that for clinician-documented diagnoses from clinical notes, 42% of patients (n = 5,562) had at least two periodontal disease diagnoses to determine their disease change. Additionally, with clinician-documented diagnoses, 72% percent of patients (n = 3,919) did not have a disease status change between their first and last visits, 669 (13%) patients' disease status progressed, and 589 (11%) patients' disease improved.
The researchers suggested that the advantage of using routinely collected data for dental records is that they can automate and monitor gum disease treatments and changes that are visible only clinically. This could allow dentists to catch periodontal disease early for better prognoses.
The team also wrote that by recognizing disease-related risk factors that may be included in such data, including tobacco use, diabetes, poor oral hygiene, and stress, dentists can better strategize treatment plans.