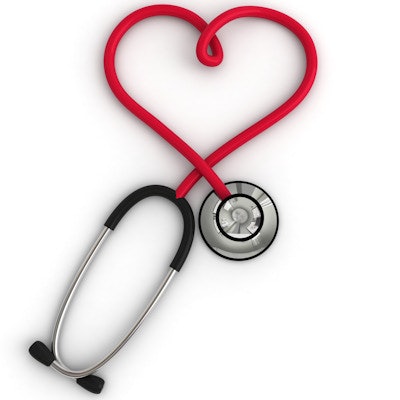 Poor oral health has been once again linked to cardiovascular disease (CVD). A recent study found that adults with periodontitis and poor oral hygiene habits may be at an increased risk for heart troubles.
The study, which is one of the latest to link heart health to oral health, included thousands of adult participants from the Korean National Health and Nutrition Examination Survey. It is also one of the first studies to look at how oral hygiene behaviors, particularly toothbrushing, relate to cardiovascular disease risk in the Korean population. The findings were published in the Journal of Cardiovascular Nursing (June 12, 2018).
"This population study supports that poor oral health, including periodontal disease and less frequent toothbrushing, is associated with higher CVD risk," wrote the authors, led by Seon Young Hwang, RN, PhD, a professor at the Hanyang University School of Nursing in Seoul, South Korea. "This finding suggests that appropriate treatment of periodontal infections and dental care are important for oral health among individuals with periodontal disease, as well as to reduce the systemic risk of CVD."
Toothbrushing linked to heart health
Newer research continues to show that heart and oral health are more related than previously thought and that periodontal disease is an independent risk factor for cardiovascular disease. However, few studies have investigated whether oral hygiene habits may also affect cardiovascular disease risk, especially for those who have no history of heart disease.
To find out, researchers used data from the 2013 and 2014 Korean National Health and Nutrition Examination Surveys. They included more than 8,000 adults age 30 and older with complete dental health information and no history of cardiovascular disease in their analysis.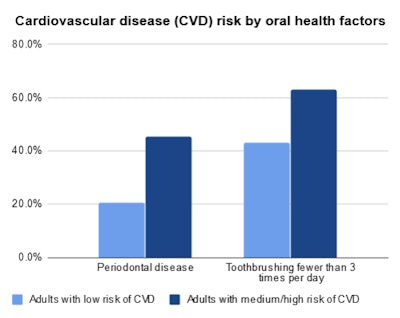 Adults with a medium or high risk of developing heart disease were significantly more likely to have periodontal disease than those with a low risk of heart disease. Medium and high-risk individuals were also significantly more likely to have poor oral hygiene habits, including less frequent toothbrushing, fewer dental visits, and fewer preventive dental treatments.
"Adults with periodontal disease were 1.38 times more likely to be in the intermediate/high-risk CVD groups," wrote the authors, later adding that, "Among oral health behaviors, toothbrushing less than three times per day was an independent predictor of intermediate/high CVD risk in this study."
Moving forward to practice
While the study included thousands of adults, it still had a couple of shortcomings. Notably, the findings can only show correlation between oral health and heart health rather than causation. Furthermore, more long-term studies are needed to validate the findings, the authors wrote.
They also believe that cardiovascular nurses may be part of the bridge between oral healthcare and heart healthcare, and successful treatment of both periodontal and heart diseases may require collaboration between medicine and dentistry.
"In clinical practice, we need to establish a strategy for the public at risk of CVD," the authors concluded. "Doctors and nurses must assess their patients' oral health and educate patients on periodontal management and oral hygiene behaviors."