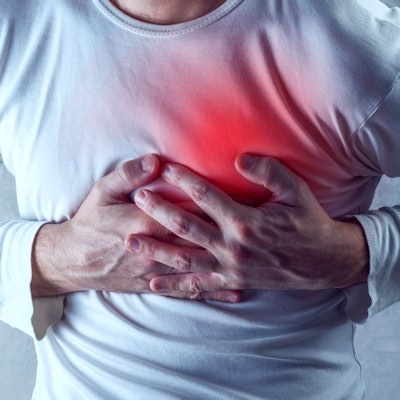 Americans with no teeth were significantly more likely to also have cardiovascular disease, the leading cause of mortality in the U.S., than individuals who did not have any missing teeth, according to research presented on October 2 at the American College of Cardiology (ACC) Middle East Conference 2019 in Dubai, United Arab Emirates.
Researchers found that people with no teeth were 80% more likely to have cardiovascular disease. And even having a few missing teeth represented a higher risk of heart trouble, according to the findings from the study, which was presented as a poster at the meeting.
The study was a secondary analysis of the 2014 Behavioral Risk Factor Surveillance System, which uses telephone surveys to obtain information about U.S. residents age 18 and older and their health-related risk behaviors, chronic health conditions, and the use of preventive services.
The researchers, led by Hamad Mohammed Qabha, MBBS, the chief medical and surgical intern at Imam Muhammad ibn Saud Islamic University in Riyadh, Saudi Arabia, were motivated to look at the relationship between oral and cardiovascular health because of the lack of consensus about the link between cardiovascular disease and oral disease, defined by chronic systemic inflammation that can cause tooth loss because of the breakdown of periodontal tissue.
A previous study from Sweden found oral health, denoted by the number of teeth, was related to incident myocardial infarction and heart failure but not to incident stroke, suggesting oral health does not appear to relate to all major cardiovascular illnesses in a similar manner (Atherosclerosis, July 2017, Vol. 262, pp. 101-106).
In the current study, researchers specifically examined the link between nontraumatic tooth loss and cardiovascular disease, which included heart attack, angina, and/or stroke. The study included 316,588 participants in the U.S. between the ages of 40 and 79, with 52% of the sample being female.
A total of 8% of individuals in the study were edentulous and 13% had cardiovascular disease. The percentage of people who had cardiovascular disease and had no teeth was 28%, while just 7% of those who had no missing teeth had cardiovascular disease. The difference was statistically significant (p < 0.001).
Researchers then conducted a statistical analysis to determine the odds ratio (OR) for the association of tooth loss and cardiovascular disease. They found that the odds ratio for cardiovascular disease rose with the number of missing teeth.
Relationship between cardiovascular disease and missing teeth
1 to 5 missing teeth
6 or more missing teeth
All teeth missing
OR for cardiovascular disease
1.2
1.7
1.8
"Our results support that there is a relationship between dental health and cardiovascular health," stated Dr. Qabha, in an ACC press release. "If a person's teeth fall out, there may be other underlying health concerns. Clinicians could be recommending that people in this age group receive adequate oral healthcare to prevent the diseases that lead to tooth loss in the first place and as potentially another way of reducing the risk of future cardiovascular disease."
Indeed, the data support the need for adequate oral health, according to the investigators.