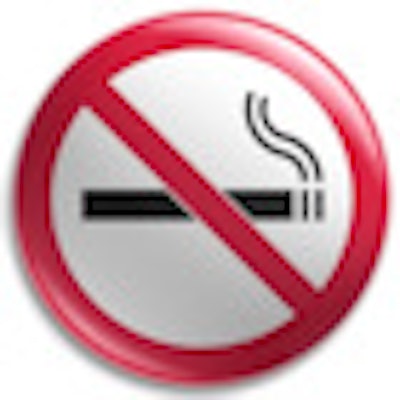 The U.S. Food and Drug Administration (FDA) is calling for a complete redesign of cigarette packaging and advertising as part of its overall strategy to reduce tobacco use in the U.S.
On November 10, the FDA issued a proposed rule, Required Warnings for Cigarette Packages and Advertisements, that calls for larger and more noticeable warning statements and color graphic images depicting the negative health consequences of smoking on cigarette packages and in cigarette advertisements. One of the new designs focuses on the link between tobacco use and oral diseases, including oral cancer.
Current regulations require only a written warning on the edge of the cigarette pack and a small warning at the bottom of ads.
The proposed rule is a requirement of the Family Smoking Prevention and Tobacco Control Act and part of a broader FDA strategy designed to will help current tobacco users quit and prevent children from starting, the agency said in a press release. The FDA already restricts the use of the terms "light," "low," and "mild"; has banned fruit, candy, and spice flavors from cigarettes; and is considering taking action against menthol cigarettes.
Tobacco use is responsible for more than 440,000 deaths in the U.S. each year, and 30% of all cancer deaths are due to tobacco, the agency noted.
"Every day, almost 4,000 youth try a cigarette for the first time and 1,000 youth become regular, daily smokers," Health and Human Services Secretary Kathleen Sebelius said at a news conference announcing the proposed rule. "We want to make sure every person who picks up a pack of cigarettes knows exactly what the risk is they are taking."
The public has an opportunity to comment on 36 proposed images for the new packaging and advertising requirements through January 9, 2011. The FDA will select nine of them by June 22, 2011, and cigarette manufacturers must begin putting them on packages and advertising by September 22, 2011. By October 22, 2011, manufacturers will no longer be able to distribute cigarettes that do not bear the new warnings, the agency noted.
Once final, these health warnings on cigarettes and in cigarette advertisements will be the most significant change in more than 25 years, according to the FDA.
"Today, the FDA takes a crucial step toward reducing the tremendous toll of illness and death caused by tobacco use by proposing to dramatically change how cigarette packages and advertising look in this country," said FDA Commissioner Margaret Hamburg, MD, in the release. "When the rule takes effect, the health consequences of smoking will be obvious every time someone picks up a pack of cigarettes."
Other countries already require more graphic warnings on cigarette packages. Canada was the first to require full-color images and text. Since December 20, 2000, cigarettes sold in Canada must display warnings that take up 50% of the principal display space. Cartons must also display the warnings.
Copyright © 2010 DrBicuspid.com