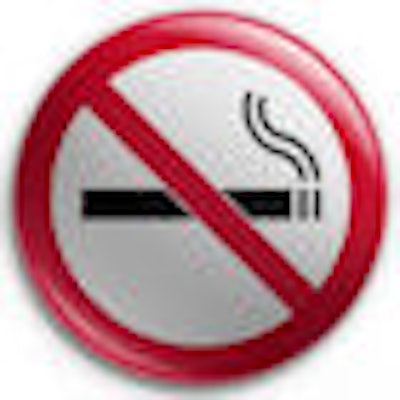 Every year 440,000 people in the U.S. die as a result of illness caused by cigarette smoking -- deaths that could have been prevented. Dentists can play an important role in helping patients quit or avoid smoking altogether, according to a panel of experts at the California Dental Association (CDA) Fall Scientific Session last week in San Francisco.
Tobacco use is the leading preventable risk factor of periodontal disease, said panelist Mark Ryder, D.M.D., professor and chair of periodontology at the University of California, San Francisco (UCSF) School of Dentistry. Smokers traditionally seem to lose more bone and don't seem to react as well to therapy compared to nonsmokers. Clinicians practicing 20 to 30 years ago attributed it to smokers' bad oral hygiene, but that view does not hold true anymore.
Periodontal disease starts with accumulation of bacteria that forms as a biofilm on the tooth surface, explained Dr. Ryder. Leaving the biofilm and the inflammatory reaction against it alone can lead to actual tissue loss. Many external factors -- such as stress, genetics, systemic diseases, tobacco use, and particularly smoking -- determine if a person will develop periodontal disease and how fast, he said. Tobacco use, particularly smoking, can influence both the inflammatory response and influence of the bacteria that accumulate on the tooth surface.
"It can tilt it toward a much more disruptive type of reaction," he said.
Even smokers who have great hygiene habits and good plaque control have a high risk of periodontal disease, Dr. Ryder noted. Treatments such as scaling and surgery are less effective on smokers, and they have higher failure rates when it comes to implants.
Because smoking is a physical, sensory, and psychological addiction, it is very difficult to quit, he explained. Even so, 70% of smokers actually want to quit, and half of them will try within the next year, he said. But only 3% to 5% will succeed without guidance, although help lines and nicotine replacement therapies can triple this percentage.
Nicotine replacement therapy
Quitting smoking cold turkey is not easy, noted Lisa Kroon, Pharm.D., C.D.E., in the Smoking and Health Update panel session at the CDA fall meeting.
Her talk focused on the role of pharmacologic aids in tobacco cessation. People must remember that nicotine is not just a bad habit, she said. "It is a physical and psychological condition that needs to be treated with both medication and counseling," she noted.
One cessation technique she recommends is nicotine replacement therapy (NRT). It reduces the physical withdrawal from nicotine, which allows patients to focus on behavioral and psychological aspects of tobacco cessation.
NRT includes over-the-counter medications such as nicotine gum, nicotine lozenges, and the nicotine patch. Prescription medication includes nicotine nasal sprays and nicotine inhalers. Non-NRT options include sustained-release bupropion and the partial nicotine receptor agonist varenicline (Chantix).
Patients should be instructed on correct dosage and possible side effects, Kroon emphasized.
Most patients underdose the medications, which can have a negative effect on their quitting success, she said. It is important to take this medication on a steady, consistent basis throughout the day.
Dentists can also play a key role. He recommends using the "five A" approach to help patients quit:
Ask them about their tobacco use.
Advise them to quit.
Assess their willingness to quit.
Assist them via counseling and nicotine replacement therapy (see sidebar).
Arrange follow-ups.
Systematically identify all tobacco users at every visit, and ask about their history of use and how much they use. Advise them to quit in a nonjudgmental way.
"Try telling them the best thing you can do for them and their health is to put them on a program to stop smoking," Dr. Ryder said.
Assess how strongly they want to quit, and be prepared to offer assistance for those smokers who are ready to quit. Show empathy and concern, and set a quit date. Let them know about the challenges they will face and the symptoms of nicotine withdrawals. Supply them with resources such as help lines and nicotine replacement therapy options.
On quit day, get them involved in an activity and clean their teeth "so it feels like a new start," Dr. Ryder said. Warn them to stay away from situations that might trigger a relapse.
If patients are not ready to quit, give them some educational material and tell them your door is always open for further discussion. From the dentist's perspective, for patients who are adamant about continuing to smoke, the goal should be damage control, Dr. Ryder said. He recommends putting them on antibiotics (tetracycline). A low dose of doxycycline (20 mg, twice a day) for an extended period of time can dampen the periodontal damage of smoking, he said.
In the long run, the more time a dentist spends trying to get patients to quit, the higher their chances of succeeding, Dr. Ryder said. Dentists often hold back from these conversations because of a fear of not being prepared, but the fact is that patients want their dentist's help, he added.
Dentists also worry about a lack of reimbursement, but some insurance companies are now looking into offering compensation for the time a dentist spends on counseling patients about smoking, according to Dr. Ryder. Medicaid and Medicare are incorporating smoking cessation in their plans, and Delta Dental has future plans to provide coverage for 15 minutes of counseling. The ADA has a code for counseling as well, and it recognizes it as a separate part of practice.
If talking does not do the trick, use visuals, Dr. Ryder said.
Show patients a radiograph of gum recession and other oral conditions they are at risk for due to smoking. Explaining that they could lose their teeth or looks as a consequence of smoking may get them to stop.
"We don't have to wait for the patient to get a heart attack or a stroke," he said.
For more information on smoking cessation techniques for healthcare providers, visit the UCSF Rx for Change program Web site.