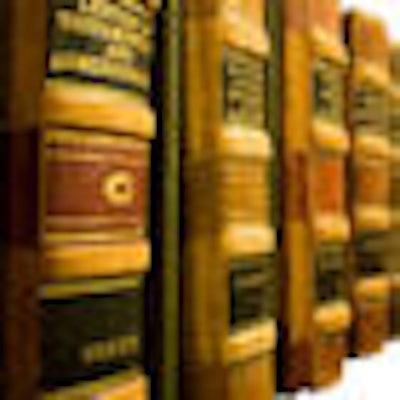 Oral Cancer Prevention International (OCPI), makers of the Oral CDx brush test for oral cancer detection, is suing Johnson & Johnson (J&J) for at least $70 million over a terminated distribution contract with OraPharma.
OraPharma was previously a subsidiary of J&J until it was acquired last December by Water Street Healthcare Partners, a private equity firm in Chicago.
J&J, which among other things sells Listerine mouthwash, was worried that a 2008 study linking alcohol-containing mouthwashes with oral cancer would negatively affect sales of Listerine and allegedly induced OraPharma to breach the sales agreement, according to OCPI.
The lawsuit, filed July 6 in U.S. District Court, District of New Jersey, claims that J&J "maliciously and fraudulently" interfered with a contract between OCPI and OraPharma that gave OraPharma exclusive rights to sell the test to U.S. dentists.
J&J's interference caused OraPharma "to suppress sales of and withhold from the public a proven lifesaving oral cancer prevention product in order to protect sales of its mouthwash, Listerine, which has been linked to oral cancer," according to the complaint.
After OCPI signed the contract in February 2010, J&J did not want to "lend credence to the link between Listerine and oral cancer" by selling both its mouthwash and OralCDx, the complaint states.
As of press time, J&J did not return calls for comment by DrBicuspid.com.
Sales of Listerine bring in more than $1 billion per year, the suit claims.
OralCDx is a "quick, painless, and inexpensive test that can prevent oral cancer by identifying dysplastic cells in the mouth long before they turn cancerous," the complaint states, adding that it has "already has been demonstrated to save lives."
The test, which has been recommended by the ADA, "is the only clinically proven test for the painless early detection of precancerous oral tissue at a stage when lives can be saved," the complaint states.
Before OCPI signed the distribution contract in 2010, its sales teams sold more than 2,000 tests per month in 2008 and 2009, according to the company.
OraPharma President Russ Sector lobbied OCPI to get the exclusive distribution contract, noting that his sales teams were experienced selling Arestin, a locally administered antibiotic used by dentists to treat periodontitis, Listerine, and OralCDx, which all deal with oral soft tissue, the complaint states.
OraPharma's sales projections indicated that selling OralCDx would double OraPharma's revenues.
Just when the contract was to be signed, OCPI "was suddenly informed that the Listerine division of J&J, which had just learned of the imminent signing of the agreement with OCPI, had prevailed upon J&J management to direct OraPharma to not execute it," according to the complaint.
Australian study
A study published in the Australian Dental Journal in 2008 linked mouthwashes containing high levels of alcohol to an increased risk of oral cancer, and recommended that such mouthwashes be restricted to short-term medical use or replaced with alcohol-free versions. Listerine has the highest alcohol content of any over-the-counter mouthwash, the complaint states.
Sales of Listerine in Australia dropped by approximately 50% following the release of the study, according to the complaint.
J&J Vice President James Murphy then told OCPI CEO Mark Rutenberg that J&J was extremely concerned about the implications of the study, according to the suit.
Murphy told Rutenberg that J&J was "leery of highlighting the risk of oral cancer and was worried that if OraPharma were to sell both Listerine and OralCDx, it would lend credence to the link between Listerine and oral cancer, and could be construed as a tacit acknowledgment by Johnson & Johnson of the validity of the conclusions of the Australian oral cancer study," the complaint states.
J&J did not tell OCPI that, as a result of the study, J&J "secretly had been planning during 2009 to launch a new alcohol-free mouthwash called Listerine Zero, and was concerned that a nearly simultaneous sales launch by OraPharma of Listerine Zero and the OralCDx brush test could lead to professional and public awareness of the true oral cancer motivation behind Listerine Zero and thus depress sales of the other versions of Listerine," the complaint reads.
Listerine Zero was developed as an alternative Listerine product that would "preserve the Listerine brand and its revenues in the event ordinary Listerine were to suffer from a public perception linking mouthwashes containing alcohol to oral cancer," according to the complaint. "Listerine Zero was carefully branded to conceal the fact that it was developed primarily in response to the Australian mouthwash oral cancer study and the subsequent sales drop in Listerine's Australian sales."
Breach of contract
In February 2010, Murphy contacted Rutenberg to inform him that J&J had decided to allow the sales agreement with OraPharma because J&J's management realized that in light of the widespread anticipation of the contract by the dental industry, if J&J blocked the agreement, it would generate exactly the kind of publicity regarding the oral cancer risk of Listerine that J&J sought to avoid, according to the suit.
J&J then agreed that OraPharma could sell OralCDx through all of its dental salespeople to all of its dentist customers following a short sales training period, the complaint states. OCPI claims that representation was false.
On March 11, 2010, Murphy informed Rutenberg that the OraPharma sales training period had been completed and that OraPharma would launch its OralCDx sales efforts on March 15, 2010, according to the suit. OCPI claims that statement was also false.
J&J "never had any intention of allowing OraPharma to sell OralCDx" to dentists most likely to adopt its use in their practices, but only allowed OraPharma to enter into the agreement "as a means to control and suppress sales of OralCDx to those dentists who J&J considered most likely to recommend the use of Listerine mouthwash to their patients, thereby depriving the public of a known cancer prevention product and destroying OCPI's dental business," the complaint states.
OCPI raised more than $5 million in debt and equity, and spent more than $2 million to purchase laboratory equipment and to hire and train new doctors and employees to handle the minimum of 20,000 tests a month it was told to anticipate, according to the suit.
After signing the sales agreement, OraPharma insisted that OCPI not only terminate its own sales force but also terminate all of its existing distributor relationships for the OralCDx test kit, according to OCPI.
After the contract was signed, OraPharma informed OCPI that "J&J had instructed it to market OralCDx to only a minute percentage of its dentist customers and, more importantly, only to those dentists who were the least likely to purchase and use OralCDx: dentists whose practices were oriented toward providing the most basic dental services, with little or no attention to broader soft tissue care," the complaint states.
In addition, the suit claims that J&J "prohibited OraPharma's sales people from attempting to sell OralCDx to any dentists not on the preselected list, and required OraPharma to inform them that that they would receive no commission for selling OralCDx to dentists other than those preselected dentists and, in fact, would be disciplined or fired for selling OralCDx to any dentists not on the list."
J&J's "scheme to take control of OralCDx and prevent it from becoming part of routine screening throughout the U.S. succeeded," the complaint states. By June 2010, OraPharma's 100-plus member sales team, with access to more than 50,000 dentists, had made fewer than 50% of the sales that OCPI' s four-person sales team had made in the six months preceding the contract.
In December 2010, OraPharma informed OCPI in December 2010 that it was selling OraPharma to Water Street Healthcare. A month later, OraPharma terminated the contract with OCPI.
OCPI claims that it lost $60 million as a result and is seeking an additional $10 million in punitive damages on each of three counts.