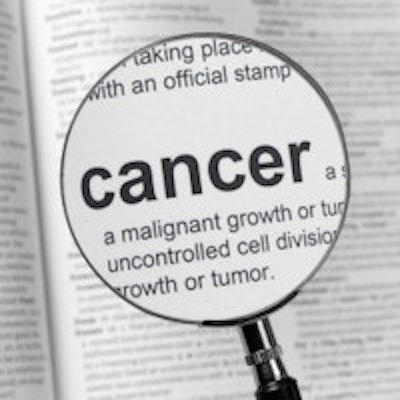 The oral-systemic link has become increasingly important as researchers have connected periodontal disease with conditions such as heart disease, diabetes, and pregnancy complications, and now a new study has found a possible association between periodontal disease and oral cancer (Head & Face Medicine, December 9, 2013) .
Monitoring and treatment of chronic periodontitis may be beneficial in reducing a potential cause of oral squamous cell carcinoma, according to the study authors.
"Our findings underline the necessity of implementing a periodontal regime in the dental office," said study author Maximilian Moergel, DMD, from the department of oral and maxillofacial surgery at University Medical Centre Mainz in Germany.
Dr. Moergel explained that chronic periodontitis is one of the most prevalent infections among humans worldwide, and his department sees a certain numbers of patients who do not have a history of smoking and alcohol use but do have oral carcinoma.
"Thus we were interested in a possible relationship of chronic periodontitis and the development of cancer," he said.
Chronic periodontitis is an inflammation of the periodontium that is mostly caused by gram-negative, anaerobic bacteria. An association between chronic periodontitis and oral squamous cell carcinoma is explainable by direct toxic effects of microorganisms and their products, as well as through activated inflammatory cells, the study authors noted. Additionally, modulation of the immune system and facilitation of tumor growth due to soft- and hard-tissue destruction by chronic periodontitis have to be considered.
A positive correlation has already been shown between tongue cancer and periodontal disease. A 2007 study by Mine Tezal, DDS, and colleagues found an association between chronic periodontitis and the risk of tongue cancer in men, independent of smoking status, age, race, ethnicity, and number of teeth (JAMA Otolaryngology -- Head & Neck Surgery, Vol. 133:5, pp. 450-454). Another study by Dr. Tezal and colleagues published in the same journal found that chronic periodontitis could be a significant factor in the natural history of human papillomavirus (HPV) infection in patients with base of tongue cancers (2009, Vol. 135:4, pp.391-396).
"Our findings underline the necessity of implementing a periodontal regime."
— Maximilian Moergel, DMD
Dr. Moergel said the current study supports the findings published by Dr. Tezal and her team; however, a unique feature of the new research is that the group also looked at the influence of periodontal therapy on the primary study aim.
In their study, Dr. Moergel and colleagues included 178 patients with oral squamous cell carcinoma and a control group of 123 who were cancer-free. All study subjects were treated between January 2002 and December 2010 and examined retrospectively between January 2011 and January 2012.
For subjects to be included in the oral squamous cell carcinoma group, they had to have primary oral squamous cell carcinoma limited to the area of periodontitis and no other malignant tumors. They also had at least six remaining teeth and no inflammatory diseases of the jaw, autoimmune disorders, and/or infectious diseases. Also, they had not taken any medication affecting the periodontium or suffered any trauma and/or fractures in the periodontium.
Those included in the control group had the same profile except they did not have any malignant disease.
All study participants were radiographically examined for bone loss in a blinded manner by one trained observer. The subjects were then asked to complete a questionnaire about their age, gender, body weight and height, marital status, and level of education. Information including oral hygiene habits, date of last dental examination, presence of gingival bleeding or halitosis, past periodontal treatment, and use of dental prostheses was collected. Finally, tobacco and alcohol use, any concomitant diseases, and stress profile prior to oral carcinoma diagnosis also were evaluated by the researchers.
The oral squamous cell carcinoma group had greater bone loss than the control group, Dr. Moergel and colleagues found. Mean bone loss was 4.3 mm in the carcinoma group, compared with 2.9 mm for the controls, and the difference was statistically significant. Also, the greatest peaks of bone loss were seen in the carcinoma patients, at a mean of 8.6 mm, compared with 5.5 mm for the controls. In 46 oral squamous cell carcinoma patients (26%), the most distinct bone loss was observed in direct proximity to the malignant tumor.
In addition to the positive correlation between chronic periodontitis and oral squamous cell carcinoma, the results suggest that periodontal therapies, including mechanical scaling and adjunctive antimicrobial therapies, could perhaps reduce oral squamous cell carcinoma incidence, according to the authors.
The fact that periodontal therapy had a positive influence in this subpopulation is a unique finding that has not been reported before, Dr. Moergel said.
The results suggest a potential association between radiologically determined chronic periodontitis and oral squamous cell carcinoma, and this finding is complemented by a possible beneficial effect of periodontal therapy, the researchers concluded. The high frequency of periodontal disease means that the findings could be of significant clinical relevance; however, study limitations included a low response rate to the questionnaire and the retrospective study design.
Dr. Moergel expressed hope that they would obtain funding for further clinical studies on this topic, noting that the most effective would be a prospective, multicenter trial.