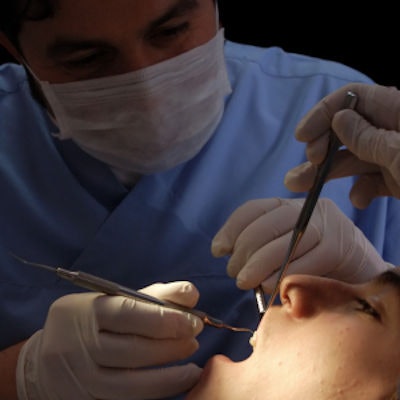 April is Oral Cancer Awareness Month, which is dedicated to educating patients and providers alike on the importance of preventative screening to detect and treat oral cancer in its early stages. This disease presents a serious threat -- nearly 54,000 Americans will be diagnosed with oral or oropharyngeal cancer this year, and it will be responsible for over 9,750 deaths. Sadly, oral cancer has a historically high death rate, but early detection can help make a difference.
As dentists, we have a unique role in the fight against oral cancer. A combination of yearly oral cancer screenings using the proper tools along with taking the time to educate patients on their specific risk factors will go a long way. My team has taken a proactive approach to prioritize screenings for all of our patients -- helping diagnose more cases earlier and connect patients with the appropriate next steps.
Here are some do's and don'ts you can incorporate in your own practice.
Don't assume patients know their risk level.
Many Americans have a specific image of oral cancer. They assume only people who use cigarettes or other tobacco products are at risk. However, we know that there is a wide variety of factors that can lead to oral cancer.
In addition to tobacco use, patients who consume alcohol or who are sexually active can be classified as having an increased risk. Oral cancer is almost two times as common in men when compared to women, but all individuals age 40 and over are at moderate to high risk. Many patients don't understand just how common it is.
Physical factors can also influence one's oral cancer risk. For example, ill-fitting dentures contribute to oral cancer risk. We often see patients with longstanding sores who have delayed care because they assume their lesions are caused by dentures. Educating patients on their specific risk is the first step toward greater awareness.
Do ensure your team is educated and prepared.
Make sure your entire care team is united against oral cancer. At my practice, a yearly oral cancer screening is a clinical standard of care, so the process is the same for each patient. We've created a simple script for our dental assistants to share at every appointment, educating patients about the tools and price point, to create a standardized system. This way, no patient slips through the cracks.
From the front desk to support staff to doctors, keep all staff members tuned in to which patients are refusing screenings. Allowing multiple staff members to check in and ask what's going on can get us one step closer to helping that patient overcome any barriers preventing them from seeking care.
Do collaborate with other healthcare providers.
Oral healthcare is an important part of overall health -- and oral cancer treatment and prevention should be an integrated part of each patient's care. We partner with local healthcare organizations and medical professionals to reinforce the importance of a healthy mouth. Reach out to local dental hygiene schools to let them know you're available as a resource for any patients with notable mouth lesions. And don't forget to partner with local oral surgeons to ensure all patients can get the care they need.
On the flip side, keep lines of communication open for any patients you have with a cancer diagnosis to become an integrated part of their care team. Cancer treatments like radiation and chemotherapy can cause many side effects in the mouth, like tooth decay and periodontal issues. Partner with oncologists to see what proactive measures can be taken now to prevent long-term issues in the future. We also provide more frequent oral cancer screenings for patients who have already received a cancer diagnosis of any kind.
Don't overwhelm or scare your patients.
Cancer is scary for anyone. Many patients automatically shut down at the word alone. Instead of overwhelming patients, we position oral cancer screenings as part of our overall approach to healthcare, letting them know every patient we see will be receiving the same screening and treatment.
At the same time, empower them to take their health into their own hands. We educate our patients on signs and symptoms to look out for to have a better understanding of what's normal and what's not. For example, we explain how cells begin to heal in around two weeks' time and that if their mouth sore or lesion isn't improving in that time period, a follow-up visit to the dentist is a good idea. This takes away some of the helplessness we all feel when confronted with cancer and encourages patients to be proactive about their own oral health.
Most importantly, do use all of the tools at your disposal.
Naked eye screenings are an important tool in oral cancer detection but aren't the only available option. Instruments like VELscope and OralID provide more sensitive readings, finding cancerous lesions at earlier stages. Could your office's technology use an upgrade? Consider the benefits of digital-first offices to bring the most advanced technology possible to your patients. Ensuring that your patients have access to the most cutting-edge methodologies is an important step in providing your patients with the best care possible.
Dr. Erum Hussain, DMD, is an Aspen Dental practice owner and general dentist with locations in Springfield and Eugene, OR. Hussain's clinical teams are experts in clear aligners and implants and work with an onsite endodontist and oral surgeon. She has been a member of the Aspen Dental team since 2016.
The comments and observations expressed herein do not necessarily reflect the opinions of DrBicuspid.com, nor should they be construed as an endorsement or admonishment of any particular idea, vendor, or organization.