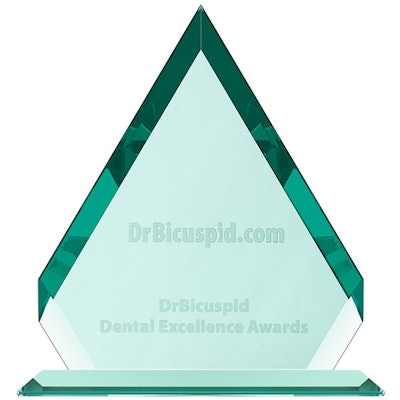 DrBicuspid.com is pleased to announce the finalists for the Dental Excellence Awards. Now it's up to you to determine the winners.
Be sure to cast your vote for the finalists in our 10 categories. Voting ends on November 14, 2017.
The DrBicuspid Dental Excellence Awards recognize the best new products and services in the dental industry. Voted on exclusively by readers, the awards showcase those products and services that dentists and dental team members have chosen to provide better patient care and greater practice efficiency. Nominees in the new product categories were introduced between October 1, 2016, and October 1, 2017.
The winners will be announced in mid-December, and the awards will be presented at the Chicago Dental Society's 2018 Midwinter Meeting in February.
Cast your vote today!
Below is the full list of finalists:
Best New CAD/CAM Product
Cara Print 4.0 3D printer, Kulzer
Grandio Blocs nanohybrid composite CAD/CAM block, Voco
InCoris CCB sintered metal disk for milling, Dentsply Sirona
LC 3DPrint box curing unit, NextDent
PlanMill 30 S milling unit, Planmeca
PrograMill One milling machine, Ivoclar Vivadent
Best New Consumer Product
3D White Whitening Therapy toothpaste line, Crest
ACT Kids toothpaste, Sanofi Consumer Healthcare
Colgate Total Advanced Health mouthwash, Colgate-Palmolive
DiamondClean Smart electric toothbrush, Philips Sonicare
Goby electric toothbrush, Goby
MI Paste One toothpaste, GC America
Mouth-Mate oral hygiene device, Armor Dental
Oral-B Pro-Health Compact Clean toothbrush, Oral-B
Parodontax toothpaste, GSK Consumer Healthcare
Power caffeinated toothpaste, Power Toothpaste
ProNamel Strong & Bright toothpaste, GSK Consumer Healthcare
Best New Dental Equipment Product
LED DayLite Micro light, Designs for Vision
NXT Hg5 amalgam separator, Solmetex
OmniOptic loupe system, Orascoptic
QuickClean ultrasonic cleaner, Midmark
SMARTmatic handpieces, KaVo
T3 S-Line of handpieces, Dentsply Sirona
Waterlase Express laser, Biolase
Best New Dental Instrument
Footsie composite polishers, Komet USA
Gracey Access line of Pro Thin curettes, American Eagle Instruments
ImplantPro titanium curettes, Brasseler USA
PrepSure crown preparation instruments, ContacEZ
Titanium Implant scalers, Hu-Friedy
Best New Diagnostic/Imaging Device
3M Mobile True Definition intraoral scanner, 3M
CamX Triton HD intraoral camera, Air Techniques
EduCam high-definition camera, Futudent
Orthopantomograph OP 3D imaging system, KaVo
PaX-i Insight 2D digital panoramic imaging system, Vatech America
Planmeca Emerald Nex-Gen intraoral scanner, Planmeca
ScanX Intraoral View digital imaging system, Air Techniques
Trios 3 wireless intraoral scanner, 3Shape
Best New Endodontic Product
OptiDam rubber dam, Kerr Endodontics
Rebilda Post GT resin posts, Voco
UniCore accessory posts, Ultradent Products
WaveOne Gold Glider file, Dentsply Sirona
XP-3D Shaper instrument, Brasseler USA
X-Smart IQ cordless motor handpiece, Dentsply Sirona
Best New Pain Management/Anesthetic Product
Axess sedation mask, Crosstex and Accutron
Cetacaine cool mint flavor topical anesthetic gel, Cetylite
Kovanaze needle-free regional anesthetic nasal spray, St. Renatus
Pain-Free gel dentin desensitizer, Parkell
SalivaCaine oral pain reliever, Forward Science
Best New Preventive/Hygienist Product
3M Fast Release Varnish fluoride varnish, 3M Oral Care
BioCoat pit-and-fissure sealant, Premier Dental
EZ-Pik interdental picks, Denbur
Kidz Seal-America pit-and-fissure sealant, Taub Products
Nupro Freedom cordless prophy system with SmartMode technology, Dentsply Sirona
Reflective DryTips moisture control pads, Microbrush International
Varnish Pen, Young Dental
XyliGel dry mouth gel, OraCoat
Best New Restorative Product
Aura eASY composite, SDI
Beautifil II LS composite, Shofu
Clearmet thermoplastic resin, Keystone Industries
Envy resin cement, Essential Dental Systems
Filtek One composite, 3M
Harmonize composite, Kerr
Mosaic universal composite, Ultradent Products
NoMix temporary cement, Centrix
Renamel Nano Plus composite, Cosmedent
V-Posil impression system, Voco
Zeramex P6 implant, Dentalpoint
Best New/Updated Software/Service
Cerec SW 4.5 software, Dentsply Sirona
CS Solutions for Implants workflow system, Carestream Dental
Dental System 2017 CAD software, 3Shape
Practice Assistant Amazon Alexa skills integration, Sikka Software
RecordLinc Implant Case Management System (RIMS), RecordLinc
Sidexis 4.2 imaging software, Dentsply Sirona
SR Conversations text messaging, Solutionreach