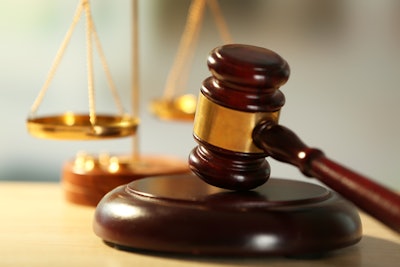 An endodontist in Oregon was sentenced to nearly six years in prison for his role in attempting to steal more than $170 million in U.S. COVID-19 relief funds, according to the U.S. Department of Justice.
Dr. Salwan Adjaj, 44, who pleaded guilty to wire fraud and aggravated identity theft, was sentenced to 70 months in a U.S. prison plus three years of supervised release for the alleged theft and illegal distribution of thousands of doses of prescription drugs. In July, he had pleaded guilty to one drug charge, according to a press release dated February 16 from the U.S. Attorney's Office for the District of Oregon.
Additionally, Adjaj must pay more than $10.5 million in restitution to the U.S. Small Business Administration (SBA) and multiple private lenders for COVID-19 relief funds he received, according to authorities.
"Salwan Adjaj's crimes showed both his indifference to those enduring the economic effects of the COVID-19 pandemic and his disregard for the health and safety of those to whom he unlawfully dispensed prescription drugs," U.S. Attorney for the District of Oregon Natalie Wight said in the release.
From September 2020 through at least May 2021, Adjaj purportedly submitted dozens of fraudulent loan applications to the SBA to obtain Economic Impact Disaster Loan (EIDL) and Paycheck Protection Program (PPP) funds. Authorized by the Coronavirus Aid, Relief, and Economic Security Act, these programs enabled the SBA to issue low-interest loans to small businesses adversely impacted by the pandemic and associated mitigation measures.
Adjaj reportedly used the names and employer identification numbers of fictitious business entities on his fraudulent applications. Though most of the applications were submitted in other peoples' names from a list of stolen identities he purchased online, Adjaj used his personal residence as the business mailing address, according to the release.
After most of Adjaj's initial EIDL applications were rejected, he focused on the PPP program and the Restaurant Revitalization Fund, a pandemic relief program aimed at supporting hospitality businesses. These applications also allegedly contained false business information but the clinician's home address, according to court records.
Overall, Adjaj purportedly submitted more than 100 fraudulent COVID-19 relief program applications, stole the identities of more than 40 victims, and caused the SBA to pay out more than $11.5 million in loans, grants, and associated lender fees.
Authorities say Adjaj used the stolen money to speculate in stocks and cryptocurrencies through online brokerage accounts. He continued to use the stolen funds for these purposes even after his arrest and purported cooperation with the government, according to the release.
"Salwan Adjaj executed an elaborate ruse to take advantage of federal emergency assistance in a time when so many businesses were struggling to stay afloat," Kieran L. Ramsey, special agent in charge of the U.S. Federal Bureau of Investigation Portland Field Office, said in the release. "Even after several fraudulent loan applications were denied, Adjaj's greed grew."
Approximately four years prior to engaging in fraud, Adjaj distributed and possessed with intent to distribute thousands of doses of prescription drugs. In August 2020, the U.S. Drug Enforcement Administration (DEA) and other law enforcement agencies searched Adjaj's dental practice and home and found numerous controlled substances, including tramadol, anabolic steroids, injectable testosterone, phendimetrazine, diazepam, alprazolam, lorazepam, and zolpidem.
An investigation by the DEA and the Oregon Board of Dentistry revealed that Adjaj used his position as a dentist and DEA registration numbers to obtain some of the drugs from a pharmaceutical manufacturer. Meanwhile, authorities claim the clinician obtained additional drugs, including steroids and human growth hormone, from the dark web. Adjaj allegedly obtained and distributed the drugs without a legitimate medical purpose. Shortly after the search, the state dental board suspended his dental license, the release states.
All of the drugs acquired were distributed by Adjaj without a legitimate medical purpose. Shortly after searching his residence and dental practice, the state dental board suspended Adjaj's dental license.