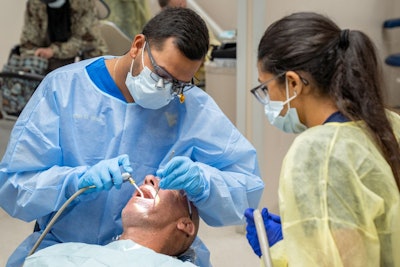 Efforts to keep graduating dental students in state to mitigate a shortage of dentists may be paying off, according to the West Virginia University School of Dentistry.
In the 2023 class, the number of WVU graduates deciding to start their career in West Virginia more than doubled from 19% to 41% compared to the previous year's graduates, according to the school.
"It's imperative to the overall health of West Virginians that we train and retain high-quality oral health clinicians. Retaining our graduates to address West Virginia's dental provider shortage is a priority and we're energized to continue this positive trend," Dr. Valerie Perrine, associate dean for student affairs, community health and outreach, said in a blog post.
According to the state's department of health and human resources oral health program, there are 49 dentists per 100,000 individuals in the state compared to an average of 61 in other U.S. states.
Perrine noted that in addition to more graduates practicing in the state, 40% of graduates who have chosen to continue their education have also remained and are completing a residency program at WVU.
Efforts contributing to the trend include the dental school's required rural rotation experience and a career fair for students that connects them with practices from around the state, she added. In addition, students complete community service projects through the school's service learning program.
"These projects include working with shelters or day cares, volunteering at hospitals and nursing homes, and providing dental health education programs at health fairs and schools," Perrine said.
Moreover, the state and federal government offer incentive programs for graduates who choose to practice in West Virginia. Incentive programs usually include financial assistance for graduates who agree to practice in a rural or underserved area of the state for a certain period of time.
"Empowering our graduates to become dental professionals in our state is a lifeline for our community's oral health," Perrine said.