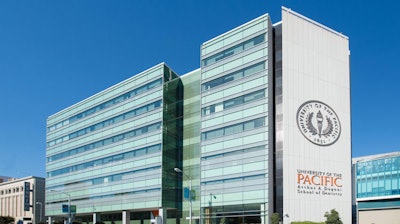 The University of the Pacific Arthur A. Dugoni School of Dentistry is collaborating with Stanford University on a project to bridge the gap between biomedical research and clinical practice.
The program, the Pacific-Stanford Primed Program, was recently awarded a $3.8 million grant by the National Institute of Dental and Craniofacial Research of the U.S. National Institutes of Health. The five-year grant will allow the University of the Pacific to train the next generation of clinical oral health researchers who are equipped to translate research into practice.
The grant is being co-led by David Lam, professor and chair of the department of oral and maxillofacial surgery and associate dean for medical integration at Dugoni, and Rebecca Moazzez, professor and chair of the department of preventive and restorative dentistry and director of the Center for Innovation and Translation at Dugoni. Also leading the effort are Ruth O'Hara, professor and senior associate dean for research at Stanford, and John Sunwoo, professor and associate dean for academic affairs at Stanford.
The program will make clinical research training mandatory for all first-year students and residents at Dugoni. In addition, research studies conducted as part of the training will focus on three areas: oral cancer, sleep medicine, and developing a Pacific-Stanford biobank.
The oral cancer study is aimed at detecting cancer earlier. Sleep apnea research will expand current work at Dugoni to assess the effectiveness of new treatment options. The biobank project involves collecting blood, saliva, tissue, and demographic information to create a robust collection of patient samples.
University of the Pacific leaders said the expanded focus on research at Dugoni will also help advance the work of Pacific's Center for Innovation and Translation, which is located on the San Francisco campus. The center's goal is to support students, residents, and faculty. The center also aims to build on existing collaborations and develop further collaborations with commercial companies and startups to test new products and innovations.