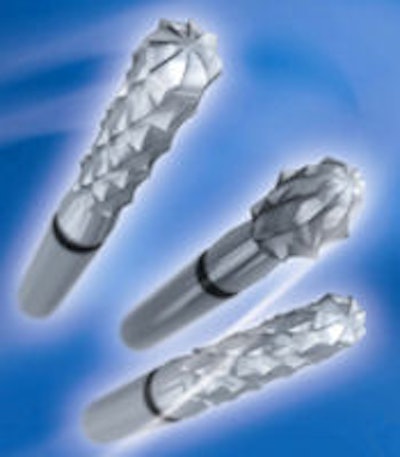 Komet USA -- the North American division of Komet of Lemgo, Germany -- is bringing a series of products to the U.S. market, the company announced. Among the new offerings are crown prepping carbides, provisional fabrication kits for dental assistants, and kits for remodeling lingual cusps of prostheses.
Crown prepping carbides
The tips of these crown prepping carbides were engineered to match up with the required chamfer or shoulder prep design depending on the desired material. All images courtesy of Komet USA.
Starting April 1, crown prepping carbides will be available in new shapes and sizes. The new carbides, designed in conjunction with Donald Alexander, D.D.S., of Jacksonville, FL, allow for more precise and controlled tooth reduction while providing a finished surface comparable to that achieved by using a diamond finisher, the company said.
Previously, the crown prepping carbides were only offered in three sizes: the flat-ended bur H837KRU (two sizes) designed for shoulder preps, and the round-ended bur H881U (one size), which is more suited to create chamfer preps. The new sizes are H856U.016, H379U.023, H846KRU.014/016, H847KRU.014/016, H837KRU.014/016, H878KU.014/016, and H881U.012/014/016.
This residual finish allows for both gross and finish work to be accomplished using the same instrument, the company said.
Provisional fabrication kits
Earlier this year, Komet USA released two kits designed specifically for dental assistants to work on provisional fabrications.
The CDA Express Bur Kit (TD 2103) was developed in conjunction with Tina Calloway, C.D.A., of Greensboro, NC, to "keep things simple" while working on provisional temporaries, according to the company. A "Christmas tree" acrylic bur is included so assistants can reach the margins better. A thin, flexible honeycomb/swirl diamond disk is intended to help assistants trim and shape the interproximal areas, and to help assistants accomplish a feathering technique (thinning the acrylic material in specific areas).
The kit also comes with an acrylic slow-speed football-shaped bur, which the company said would allow the assistants to minimally adjust the occlusion, keeping the natural anatomy. A rubber polisher is provided to smooth out any rough edges and the microfiber polisher is intended to add a high shine.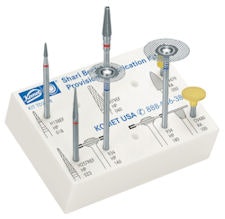 One feature Komet USA touts for these burs, designed for dental assistants, is that the main cutting burs and their nonclogging design allow for more efficient shaping and trimming.
The Shari Becker Provisional Fabrication Kit (TD 2118) was developed in conjunction with Shari Becker, C.D.A., R.D.A., of Danville, CA. The all-in-one kit comes with seven instruments (three tungsten carbide cutters, two diamond disks, and two diamond polishers) and is designed to meet the needs of the beginner, intermediate, and advanced operator, according to Komet.
The kit's H79EF.HP.040 tungsten carbide cutter is the "workhorse" of this kit, according to the company. Its medium width makes it adaptable to bulk trim, define, and contour, Komet said. The H257REF.HP.023 tungsten carbide cutter can be used for interproximal cutback and shaping, while the H138EF.HP.018 tungsten carbide cutter can be used for occlusal reduction and contour.
The kit also comes with two honeycomb-designed diamond disks (934.HP.140 and 934.HP.180) and allows for incisal and gingival embrasure contours necessary on multiple unit temporaries.
Finally, the two polishers (C9479.RA.050 and C9480.RA.100) are used for subtle contouring and smoothing, enhancing detailed texture while adding a final gloss.
Kits for lingual cusp remodeling
Last August, Komet introduced kits TD2064 and TD2065 with special diamond grinders for dentists who prescribe removable prosthodontics for their edentulous patients and might have to remodel the lingual cusps before their installation. They were designed in consultation with Joseph Massad, D.D.S., of Tulsa, OK.
The kits assist with tooth setup time and postprocessing equilibration, the company said. The burs included in these two kits prevent prosthesis from tipping by reshaping grooves and eliminating interferences, achieving a smooth central fossa. This is intended to produce ideal mandibular tooth topography without sacrificing aesthetics.
The reshaping provides the central fossa a home for opposing maxillary lingual cusps in centric relation occlusion.
Both the TD2064 and TD2065 kits also come with instruments for trimming and polishing acrylic and the metal parts of the prosthesis. The kits also include a post dam bur. The idea behind this instrument is to create a consistent calibrated method to carve the post palatal seal, according to Komet.
Web call back
Also this year, Komet USA launched the first interactive feature on its Web site called Instant Web Call Back. This feature allows visitors to request an instant phone call from a Komet USA inside account manager Monday through Friday, from 8 a.m. to 8 p.m. EST.
"This technology is perfect for the busy dental professional because it allows them to enter a queue without being placed on hold," said Braden Timmermann, Komet USA's information technology manager.
Copyright © 2009 DrBicuspid.com