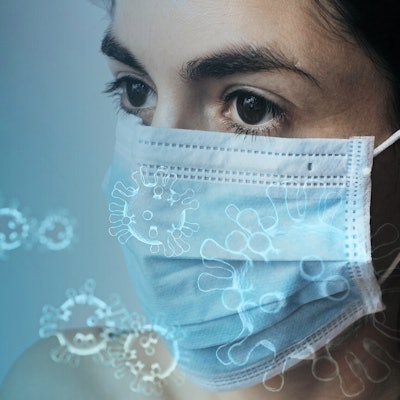 For the most part, dentists and dental assistants working in France during the height of the pandemic in April 2020 were not more likely to get COVID-19 than other members of the public, according to a study published on February 11 in PLOS One.
However, specific factors, including working at practices that focus on dental specialties such as periodontology, having the underlying conditions of obesity or chronic kidney disease, or using public transportation, increased the risk of dentists and dental assistants testing positive for COVID-19, the authors wrote.
"Results from this study may provide important insights for relevant health authorities regarding the overall infection status of oral [healthcare] workers in the current pandemic and draw attention to particular at-risk groups," wrote the authors, led by Dr. Sebastien Jungo of UFR Odontologie, Dental Medicine Department, AP-HP, Bretonneau Hospital at the University of Paris.
Studies have suggested that healthcare workers, including dental teams, have been at higher risk of contracting COVID-19. However, the available data on the risk of contracting COVID-19 or how the risk varies between dental subspecialties are limited. Therefore, the researchers aimed to report the prevalence of COVID-19 among healthcare workers and to identify risk indicators and clinical roles most associated with transmission of the novel coronavirus.
Between April 1 and April 29, 2020, an online survey was sent to dentists and dental assistants in France. Approximately 10% of the survey population -- 4,172 dentists and 1,868 dental assistants -- responded. Then, Jungo and colleagues used the data to perform univariable and multivariable logistic regression analyses.
In all, 1.9% of dentists and 0.8% of dental assistants contracted COVID-19 while working in France during the first wave of the pandemic, according to the findings.
Prevalence skyrocketed to 15% among some subgroups of dentists and 11.8% among some types of dental assistants, depending on multiple characteristics. The odds of being diagnosed with COVID-19 increased for oral healthcare professionals who were obese, were diagnosed with chronic kidney disease or chronic obstructive pulmonary disease, used public transportation, or worked in a practice limited to periodontology in which more aerosol-generating procedures occurred.
Dentists and dental assistants had lower odds of contracting SARS-CoV-2 if they worked at an office limited to endodontics or at a practice that changed its work rhythm, such as to only performing emergency procedures, the authors wrote.
The study had several limitations, including the form of recruitment. Though the survey was distributed through professional channels, the survey software did not control who responded to it, the researchers noted.
The lessons learned from the COVID-19 pandemic in terms of the usefulness of equipping and protecting dental teams could help limit the spread of infections in the future.
"Protecting oral [healthcare] workers could be an interesting public health strategy to prevent the resurgence of COVID-19 and/or the emergence of new pandemics," Jungo and colleagues added.