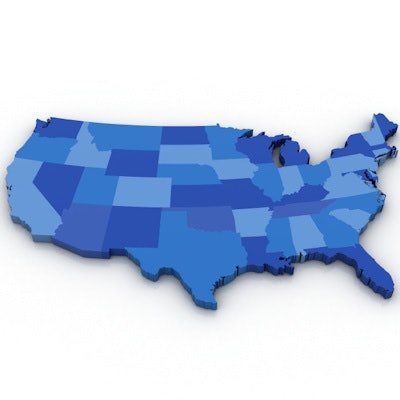 In 2020 and 2021, approximately two dozen states in the U.S. have enacted legislative and regulatory changes related to dental assisting requirements, according to the Dental Assisting National Board's "State of the States" report.
States have made a variety of updates, including adding amendments clarifying the scope of practice for dental assistants, changing education requirements, and introducing rules on the use of teledentistry, according to the report, which outlines changes that were made between August 2020 and July 2021.
Individual changes by state
Arizona
In February 2021, the Arizona State Board of Dental Examiners published a statement clarifying its stance on whether taking digital impressions is within a dental assistant's scope of practice. According to the board, dental assistants can take final impressions for any activating orthodontic appliance or fixed or removable prosthesis as long as the impression is completed under a dentist's direct supervision and the clinician submits it for processing.
Florida
In March 2020, the Florida Board of Dentistry revised its rules on sedation and anesthesia administration. Dentists with sedation permits must employ an "office team" approach in which the clinician uses two or more qualified dental hygienists or dental assistants who, under the direct supervision of the dentist, can help with the emergency care of a patient. Also, a dental assistant or hygienist tasked with monitoring nitrous oxide inhalation analgesia can make only diminishing adjustments.
Georgia
In May 2021, Georgia signed into law educational requirements for dental assistants and licensed hygienists who perform phlebotomy and venipuncture procedures. The rules took effect on July 1 and require assistants to complete dental board-approved courses in phlebotomy, intravenous access, infection control, the handling of any medical or dental emergencies related to these procedures, and any other safety-related topics. Additionally, the law requires assistants and hygienists who assist dentists with conscious sedation or general anesthesia to take board-approved training on applicable procedures, protocols, patient-monitoring techniques, equipment, and any other required safety-related topics.
Iowa
In February 2020, the Iowa Dental Board rescinded prior rules related to the mandatory reporting of child abuse and dependent adult abuse for all licensees. The board adopted new rules that align with a 2019 statute change governing mandatory reporter training. Under the new rules, licensees who treat adults must complete a two-hour course in reporter training related to dependent adult abuse within six months of employment or prior to the expiration of their current certificate. Those who treat children must take a two-hour course in mandatory reporter training related to child abuse within six months of employment or before their certification expires.
Additionally, effective January 20, 2021, dentists, dental hygienists, and dental assistants can receive one hour of continuing education credit for every three hours of volunteer dental services they provide. Team members can earn a maximum of four continuing credit hours via volunteer work done in a two-year period.
Kentucky
Kentucky changed its dental board-amended regulations effective July 2020 to clarify the role of an assistant in anesthesia and sedation. A trained individual must have an active certificate in basic life support and be trained in monitoring electrocardiograms, pulse oximetry, blood pressure, airway management, and capnography. Additionally, a dental assistant may not independently administer nitrous oxide sedation but may initiate it if the dentist is in the office and gives the dental assistant specific instructions about titration, rate, and dosage of the anesthetic agent.
Maine
In June 2021, amendments were made to the Maine Dental Practice Act that define teledentistry and that relate to the supervision and delegation of duties to unlicensed and licensed persons. The changes include specifying which functions may be delegated to unlicensed persons, as well as unlicensed persons who have passed the Dental Assisting National Board's certified dental assistant exam. The new rules also specify that a dentist is legally liable for the activities performed by unlicensed persons in the dental office.
Massachusetts
In September 2020, the Massachusetts Board of Registration in Dentistry voted to allow licensed dental assistants to administer COVID-19 tests under the direct supervision of a licensed dentist.
Michigan
The Michigan Board of Dentistry amended some of its rules related to education. Dental assistants must now complete at least one hour of continuing education in infection control and, at the time of licensure, take a one-time training designed to help them identify victims of human trafficking. The human trafficking training begins January 6, 2022.
Nebraska
The state created new categories of assistants, including licensed dental assistant and expanded function dental assistant. Under the new rule, which was effective December 2020, assistants must complete 20 hours of continuing education every two years.
Nevada
In October 2020, the Nevada State Board of Dental Examiners issued an advisory opinion stating that "the administration of silver diamine fluoride by a dental assistant is within their scope of practice."
New Jersey
Effective April 2021, the state board established several new requirements, including that registered dental assistants and limited registered dental assistants in orthodontics must now complete online jurisprudence orientation within six months prior to application. In addition, the 10-hour biennial continuing education requirement for assistants now includes the following:
One hour in the prevention and control of infectious diseases and managing personnel health and safety concerns in dental settings
Three hours in practical hands-on cardiopulmonary resuscitation
One hour in professional ethics and New Jersey dental assisting law
One hour in topics related to prescription opioid drugs
North Carolina
North Carolina adopted several amendments that went into effect in September 2020. One amendment states that a dentist cannot allow a dental assistant to administer sedation or general anesthesia agents, including drawing a dose into a syringe, to a patient. Furthermore, all licensed dental team members are required to follow and maintain sterilization and infection control techniques. The state dental board also ruled that a dentist trained outside the U.S. may work as a dental assistant II, provided that their credentials are verified by a supervising dentist.
Pennsylvania
Effective August 2020, all licensees and certificate holders must complete two hours of continuing education in approved courses on child abuse recognition and reporting.
South Carolina
In July 2021, the South Carolina Board of Dentistry clarified that dental assistants may apply silver diamine fluoride as prescribed by a dentist and under the direct supervision of a clinician on the premises.
South Dakota
Effective August 2020, the South Dakota State Board of Dentistry amended rules related to dental radiography. One amendment created the title of dental radiographer, and to earn this new title, a person must pass the Dental Assisting National Board's radiation health and safety exam.
Texas
Effective June 2020, the Texas Board of Dental Examiners adopted a new rule relating to licensure exemptions. The rule allows a military spouse to practice as a dental assistant without registration while their respective service member spouse is stationed at a Texas military installation. The assistant, however, must possess active registration in another state. The exemption requires board authorization, and the duration should not exceed three years.
Utah
Effective March 10, 2020, the Utah Dentists and Dental Hygienists Licensing Board adopted amendments related to anesthesia. The changes clarified that dental assistants may initially introduce nitrous oxide and oxygen to a patient under the direct supervision of a dentist only after a baseline percentage and flow rate suitable for the patient is established. The action also must be documented by a licensed dentist who holds the appropriate permit. Additionally, a provision prohibiting dental assistants from injecting any substance into patients was added.
Virginia
Effective March 2021, the Virginia Board of Dentistry amended its rules related to education and training for dental assistants II, including that greater emphasis be placed on mastering specific competencies through lab and clinical experiences.
Washington
Effective January 2021, the Washington Dental Quality Assurance Commission no longer requires AIDS education and training for dental team members. This change aligns with a rule that repealed AIDS education requirements for healthcare professionals. The board also adopted a comprehensive infection control rule that is in line with many recommendations made by the U.S. Centers for Disease Control and Prevention.