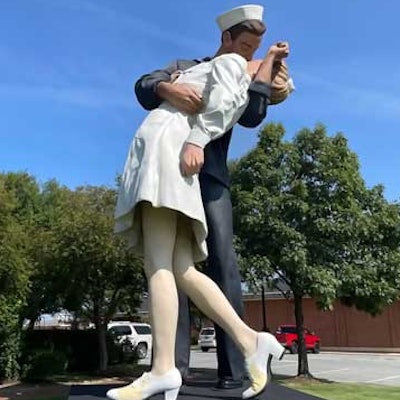 A sculpture of the iconic photo depicting a World War II U.S. Navy sailor kissing a dental assistant in a nurse's uniform in Times Square to celebrate Japan's surrender will remain in Nebraska for now, according to a story in the Omaha World Herald.
The 26-ft statue, which recreates the famous photo of George Mendonsa spontaneously kissing Greta Zimmer Friedman that was taken on August 14, 1945, the day World War II ended, will be on display in Memorial Park in Omaha until January 2024. The image, snapped by Alfred Eisenstaedt, is called "V-J Day in Times Square" but is known by many as "The Kiss." The image was first published in Life Magazine and became one of the most famous photos of the 20th century.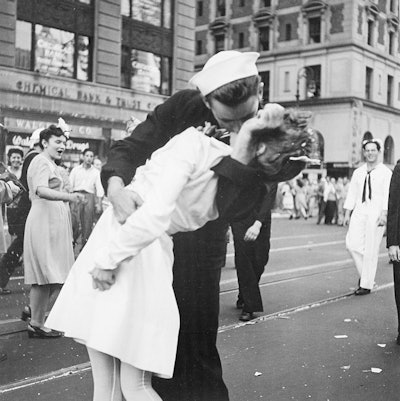 However, it took decades before Friedman, who was 15 when she fled Nazi-controlled Austria and emigrated to the U.S., was identified as the woman in the photo. Her parents died in the Holocaust. On V-J Day, Friedman had left the dental office in New York City where she was working as a dental assistant when Mendonsa grabbed her and kissed her. They were strangers.
Over the years in various interviews, Mendonsa said he approached the uniform-wearing Friedman because she reminded him of the nurses who took care of his fellow soldiers during the war. In 2016, Friedman died at the age of 92. Mendonsa died two days before his 96th birthday in February 2019. The sculpture was created by the Seward Johnson. The life-size statue in Omaha is a copy of one that is displayed in Sarasota, FL.