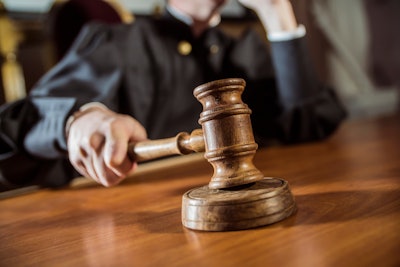 A jury awarded $3.5 million to a 5-year-old boy who experienced a hypoxic brain injury due to oversedation during a routine dental procedure at a pediatric dental practice in Escondido, CA, according to the attorney representing the child.
The jury deliberated for two days before finding Dr. Mahtab Saadatmandi, the owner of Rose Dental Group, was negligent in the management and supervision of dental services to A. Hernandez and violated the law, according to a press release dated July 18 from the San Diego-based medical malpractice firm Vaage Law.
Of the award, $2,050,000 was awarded for future lost earnings and future medical and related expenses, and the additional $1.5 million was for past and future noneconomic loss, including physical pain and mental suffering, according to the release.
The boy's brain injury was due to a lack of oxygen caused from oversedation with a combination of conscious sedation medications during routine dental treatment, Robert Vaage, the patient's attorney, said in the press release.
Concerned about the child's condition after the procedure, the boy's mother took him to a hospital emergency room. He allegedly lost consciousness on the way to the hospital. Initially, emergency room doctors were unable to revive the 5-year-old. Once the doctors contacted the dental practice and learned of the medications he was administered, they revived the boy, who woke up screaming, according to the release.
After this, the child's mother noticed her son began having behavioral and academic problems. He was also wetting the bed, hitting himself, and having night terrors, as well as falling further behind academically, according to the attorney.
The child underwent testing, and a neuropsychologist expert reportedly found he had multiple cognitive problems, all of which were associated with a lack of oxygen to the brain, according to the release.
The jury found that Saadatmandi violated California's laws and regulations related to use of oral conscious sedation drugs during dental procedures, including the need for a safety system that includes monitoring vital signs, performing assessments before and after sedation, and recording a patient's condition at discharge as well as the reason for sedation, according to the release.
Additionally, a biller at Rose Dental, which is a dental service organization (DSO), reportedly admitted at trial that online searches were conducted to make up diagnoses for patients that would justify certain billing codes. The state's Medi-Cal Dental program, which offers free or low-cost dental services provided by Denti-Cal, pays more in reimbursements that were submitted with a "behavioral management" billing code than those with a "conscious sedation" code, according to the release.
"Here, the biller at Rose Dental admitted to making up diagnoses based on a Google search to justify the behavioral management billing code for the plaintiff," Vaage said in the release. "I'm still shocked."