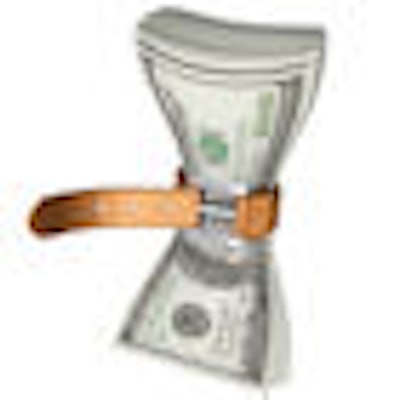 New Jersey and Connecticut are the latest states to be hit with reductions in reimbursements by Delta Dental within the last year.
Delta Dental announced it will to cut payments to New Jersey and Connecticut dentists by 4% to 5% in 2013. Delta cut reimbursement rates for Idaho and Washington dentists last year.
The cuts will take effect January 1, 2013, for dentists in Delta Dental's Premier fee-for-service network and will be based on ZIP codes, according to letters sent to New Jersey and Connecticut dentists.
The cuts will enable Delta Dental to remain competitive against large insurance companies such as Horizon Blue Cross Blue Shield of New Jersey, Anthem Blue Cross Blue Shield of Connecticut, Cigna, Metropolitan Life, and Aetna, according to spokeswoman Diane Belle. Lower reimbursements will result in overall reductions in claim payments, which the company says it will pass on to its insureds, Belle said.
"We're hoping to pass on the savings to our group in the form of lower rates," Belle told DrBicuspid.com. "Our employers are facing a lot of challenges, and employee benefits are places where they're looking to cut. We know that people are more likely to visit the dentist if they have dental insurance, and we want them to keep the insurance so we have to make it attractive for them to keep it."
The changes will affect 5,846 New Jersey dentists and 2,175 Connecticut dentists. Delta Dental's Premier Network is the largest network in the U.S.
"Connecticut dentists are aware of the reimbursement rate cuts that Delta Dental of New Jersey feels are necessary and will be implementing early next year. It is always unfortunate when reimbursements to dentists are reduced at the same time when the cost to dentists in providing services continue to rise," Carol Dingeldey, director of the Connecticut State Dental Association, stated in an email to DrBicuspid.com.
The New Jersey Dental Association declined to comment.
Last November, Delta Dental cut rates between 4% to 13% for Idaho dentists in the company's preferred provider organization (PPO) dental plans, which affected all 825 dentists in the state, according to the Idaho State Dental Association (ISDA).
The reductions affected all Idaho dentists, even those who don't contract with Delta Dental in the PPO plan, because they also reduced the allowable rates for dentists who don't have contracts with Delta, said ISDA President Gregory Bengston, DDS.
And last June, the Washington Dental Service (WDS) -- a member of the Delta Dental Plans Association -- slashed reimbursements by 15%. The reduction applied across the board to approximately 4,000 dentists in Delta Dental's Premier fee-for-service network.
Last month, a controversy erupted after WDS CEO James Dwyer said that dentists should work more to make up for the reimbursement cuts. Dwyer, who earns $1.2 million a year, made the comments during a television interview in which he suggested that dentists could make up lost revenue by working more five days a week instead of three or four days.
The Washington State Dental Association called Dwyer's comments "outrageous and disrespectful."
Dwyer later offered a qualified apology and said his comments were taken out of context.