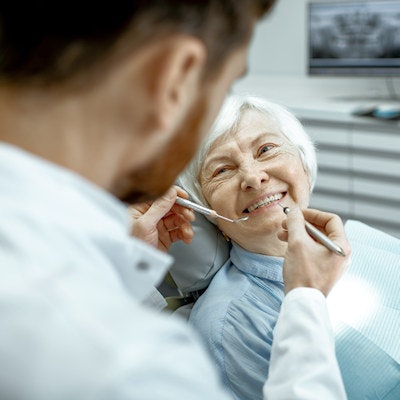 About half of all older U.S. adults lack dental insurance, according to research published on February 7 in Health Affairs. Furthermore, in 2018, nearly half of older adults received no dental care, the study found.
Other intriguing findings include that the researchers observed an increase of nearly 5 percentage points in the number of people who lost all their teeth after they turned 65 and became eligible for Medicare. Also, the number of people receiving restorative dental care, such as fillings or crowns, decreased by 8.7 percentage points during the study's time frame.
The research was led by Dr. Lisa Simon from Brigham and Women's Hospital in Boston. Simon and her team analyzed survey data collected between 2010 and 2019 from 97,108 U.S. adults, including community-dwelling adults ages 50 to 85. They examined changes in dental insurance and oral healthcare after respondents became eligible for Medicare.
The researchers also reported that enrollment in Medicare Advantage, which may offer a dental benefit, was not linked to greater use of dental services relative to traditional Medicare. Additionally, Medicare Advantage enrollees had a significantly larger drop in dental spending from private insurance at age 65 than traditional Medicare enrollees.
The study's authors suggested that expanding Medicare to cover dental services may help curb these trends among all enrollees.