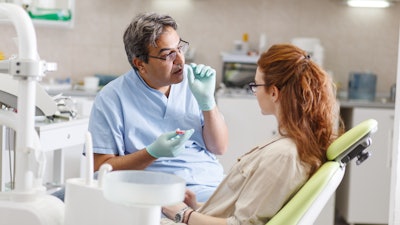 Dentists may want to stop trying to guilt patients into flossing and brushing more often. Using guilt to communicate health concerns likely won't lead to behavioral changes, according to a study recently published in Frontiers in Psychology.
Instead, clinicians should use persuasive communication techniques that invoke one's imagination, use stories and more to compel patients to make positive changes, the authors wrote.
"Guilt appeals used in health-related contexts were less effective," wrote the authors, led by Wei Peng, PhD, an associate professor at Washington State University in Pullman, WA (Front Psychol, September 28, 2023).
In the study, researchers analyzed data from 26 studies involving more than 7,512 participants. In total, 127 effect sizes from the persuasive outcomes of using guilt, attitude, behavior, behavioral intention, non-guilt emotions, motivation, and cognition were calculated, according to the study.
Guilt appeals only had a small effect (g = 0.19; 95% confidence interval, 0.10 to 0.28), the authors wrote.
To communicate more effectively, clinicians may want to appeal to patients by portraying the victim's pain, attributing the causal event to unstable factors, and offering recommendations that will fix the problem. On the flip side, arguments that overemphasize how a problem could have been managed may negatively affect the desired outcome. Therefore, sharing stories, tapping into the imagination, and using other resources may achieve greater effectiveness, they wrote.
In the future, more studies are needed to replicate the findings, the authors wrote.
"From a practical perspective, the findings could improve the confidence of practitioners in using and developing guilt appeals by offering valuable insights into different parts and processes of this persuasive means," Peng and colleagues wrote.