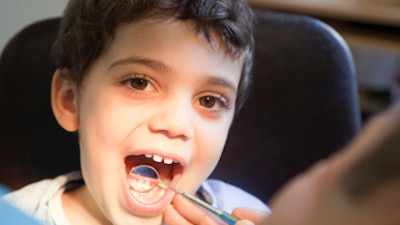 An expanded dental workforce could improve the oral health of U.S. children, according to a study published last March in JAMA Health Forum.
The findings are good news, especially since tooth decay is the most common chronic disease among U.S. children, according to a news release issued by the Harvard School of Dental Medicine in Boston regarding the study.
"[The impact of tooth decay] is felt most acutely in low income, underserved areas," the school said in the release. "On average, children miss 34 million school hours annually due to emergency dental care."
A team led by Sung Choi, PhD, assessed the cost-effectiveness of expanding the dental workforce in underserved areas through the National Health Service Corps (NHSC) -- a federally funded program through the Health Resources and Services Administration (HRSA) that provides scholarships and loans to medical and dental students who commit to serving in communities categorized as being "health professional shortage areas," or HPSAs, Harvard said. Almost 11,000 dental practitioners are needed to support the more than 6,300 communities considered to be HPSAs.
Choi's team evaluated the cost-effectiveness of expanding dental care through the NHSC. Their study included data from 10,780 U.S. children (JAMA Health Forum, March 17, 2023, Vol. 4:3, e230128). They found that increasing annual NHSC funding for dental practitioners by 5% to 30% over 10 years would "substantially reduce the burden of dental caries and still provide a cost savings," according to Harvard.
"Our analysis suggests that expanding the dental workforce through the NHSC would reduce the burden of dental caries among children in underserved areas and address disparities in the social and economic determinants of oral health," Choi said in the statement.