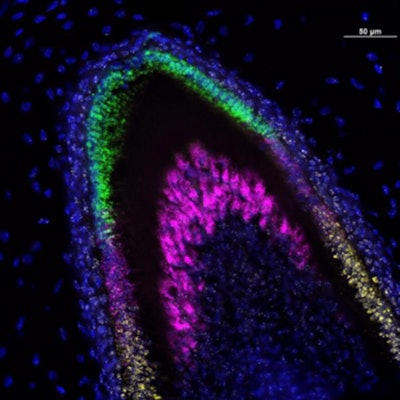 Researchers from the University of Washington in Seattle report that organoids created from stem cells can secrete the proteins that form dental enamel. Their findings were published in Developmental Cell.
The discovery is an important step in stem cell-based treatments to repair damaged teeth and regenerate lost teeth, according to the research team.
Enamel is made during tooth formation by specialized cells called ameloblasts. These cells die off once teeth are fully formed, meaning the body has no way to repair or regenerate damaged enamel.
The researchers wanted to create ameloblasts in a lab setting, learning about the genetic machinations that drive fetal stem cells to develop into these enamel-producing cells. The team used a technique called single-cell combinatorial indexing RNA sequencing (sci-RNA-seq).
The technique reveals active genes at different stages of cell development. Using sci-RNA-seq, the researchers obtained snapshots of gene activation at each stage. They then used a computer program called Monocle to build the likely trajectory of gene activities that occur as stem cells develop into fully differentiated ameloblasts.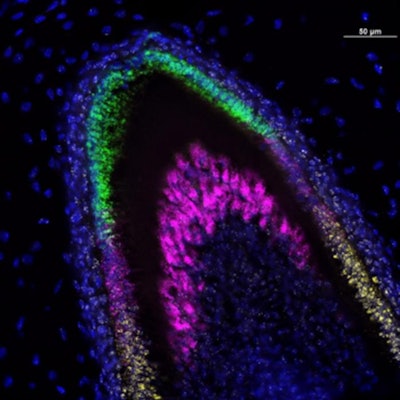 The researchers exposed the stem cells to chemical signals that activated different genes in a sequence, copying the path revealed by the sci-RNA-seq data. In some cases, they used known chemical signals. In others, collaborating researchers from the University of Washington Medicine Institute for Protein Design created enhanced computer-designed proteins.
The team also identified for the first time another cell type called a subodontoblast, which they wrote is a parent cell of odontoblasts, or tooth-forming cells. The researchers found that together, these cell types could be induced to form small 3D organoids.
These organoids merged into structures like those seen in developing human teeth and secreted three essential enamel proteins: ameloblastin, amelogenin, and enamelin. These proteins would then form a matrix and kick off a mineralization process needed for forming enamel.
The researchers said they hope to improve the process to make an enamel comparable in durability to that found in natural teeth as well as develop ways to use this enamel to restore damaged teeth.
Read the article.