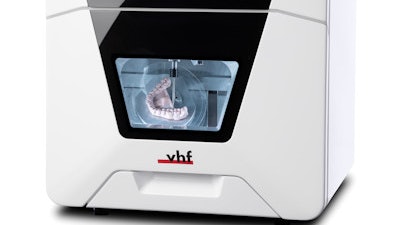 VHF Camfacture will debut the E3 milling machine at the International Dental Show in Cologne, Germany, on March 14, 2023. It is the first VHF milling machine specifically designed for orthodontic applications.
The E3 is capable of designing aligners, bite splints, grinding splints, and other variants, including sports mouthguards rapidly. An aligner, for example, can be milled in less than 60 seconds, according to the company. The E3 can be operated practically anywhere due to its compact housing. It doesn't require compressed air and it weighs 25 kg, the company added.
Besides displaying the E3, VHF will exhibit two other machines from its Ease Class, including the E5, a five-axis disc milling machine and the E4, a four-axis block milling unit.