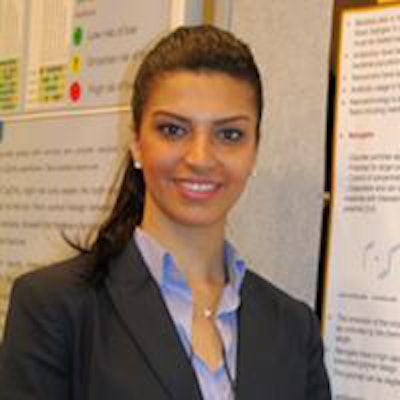 A student researcher has found a way to merge nanobiotechnology with endodontics. Sanam Kheirieh, DDS, a graduating endodontics resident at the University of Maryland School of Dentistry, has created a scaffold that can fight harmful bacteria.
Dr. Kheirieh's research, which was presented at the 2016 American Association of Endodontists (AAE) annual session in San Francisco, focuses on creating a degradable gel scaffold with antibacterial properties. She hopes that it will eventually improve the way the profession prevents infection.
"What I'm targeting through my research and my idea is endodontic infection," she said in an interview with DrBicuspid.com. "The main reason of providing root canal treatments, retreatments, or any surgical procedure in this field is that we want to just eliminate the bacteria."
Scaffold targets harmful bacteria
Dr. Kheirieh originally hails from Iran, where she got her initial experience practicing dentistry and researching dental materials in an endodontic setting. When she moved to the U.S., she worked with Jeffrey Stansbury, PhD, at the University of Colorado Boulder, researching nanotechnology, particularly nanogels, for restorative dentistry.
"I was always thinking about applying this technology in a way that could benefit us in the field of endodontics and, of course, improve the outcome of our treatments."
— Sanam Kheirieh, DDS
"After I worked a lot with that material in the field of restorative dentistry, I got accepted for the endodontic program," Dr. Kheirieh explained. "I was always thinking about applying this technology in a way that could benefit us in the field of endodontics and, of course, improve the outcome of our treatments and the service we provide for patients."
Dr. Kheirieh was excited about the opportunity to combine nanobiotechnology and endodontics, particularly in the form of a scaffold. For her research project, she created a nanogel-based scaffold that slowly releases antibacterial agents and additives over a period of about 10 days. She looked at how well different versions of the scaffold with amoxicillin, clindamycin, and nanosilver targeted specific bacteria.
Dr. Kheirieh tested the antibacterial properties of each formula at two different time intervals, day 1 and day 3, to ensure that the controlled-release mechanism was working appropriately. She found that over the time period the scaffold with amoxicillin worked the best, particularly on the bacteria Enterococcus faecalis (E. faecalis).
"What we found in this preliminary study was that, first of all, the nanotechnology itself showed antibacterial properties on its own," she said. "Second of all, amoxicillin showed the most antibacterial effect compared to the other nanotechnology material, nanosilver material properties, and it was most effective on E. faecalis."
Just the beginning of the research
Dr. Kheirieh noted that the poster she presented at AAE 2016 is just the preliminary study, and she's already in the midst of a main study follow-up. During that research, she will test a nanogel-based scaffold with amoxicillin at 25 wt % on E. faecalis. She will measure the scaffold's efficacy at fighting the bacteria at multiple time points, up to 21 days.
"The main project is focusing on the profile of this release and the profile of antibacterial efficacy on the environment," she said. "It is how these antibacterial properties and characteristics are changing during time."
Although Dr. Kheirieh is graduating in 2016, she plans to stay involved at least part-time with the research, and other students will pick up where she leaves off. As for anyone else interested in researching how nanobiotechnology can supplement dental research, Dr. Kheirieh has some words of advice.
"You should learn how to work with this material, you should learn the concept of the material, and how nanotechnology is totally different from other materials we traditional use," she explained. "Then, if you are a dentist or an endodontist, you should think about how you can take advantage of all the characteristics of the material that can benefit your own career and the treatment and service you provide for patients."