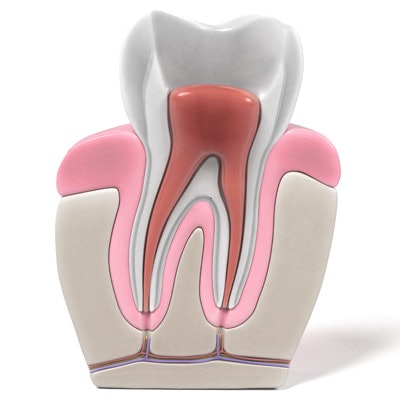 The buildup of biofilms can delay the healing process in a root canal system. Getting rid of these biofilms, however, often requires treatment beyond irrigation and instrumentation.
In a new study, researchers tested five endodontic materials and found that two of them, Vitapex and pure iodoform paste, were the most successful at killing these biofilms. The results were published in Pediatric Dentistry (March/April 2017, Vol. 39:2, pp. 145-149).
"Pure iodoform paste and iodoform containing Vitapex were the most effective materials against the biofilms," the authors wrote. "Vitapex appears to be a suitable endodontic material for primary teeth."
The study was led by Katerine Jahnecke Pilownic, MScD, a doctoral student in the Faculty of Dentistry at the Federal University of Pelotas in Brazil.
Tortuous and bizarre
The structure of root canal systems in primary teeth have been described as tortuous and bizarre. Add in patient management and the need for isolation of the area during treatment and it is well-understood why root canal therapy can be challenging for the practitioner.
In addition, root resorption may cause structural alterations and an increased risk that microbial toxins, such as cocci and bacilli, will enter the system. When these and other biofilms are not removed, the inflammatory process continues, which delays periapical healing.
Instrumentation and irrigation often do not eliminate harmful biofilms from an infected primary tooth root canal system. The researchers speculated that endodontic filling materials with antimicrobial activity could play an important role in eliminating this microflora.
They wanted to evaluate the effect of five endodontic materials for primary teeth on in vitro mixed-species biofilms, using sterile water as a control. The five materials are listed below:
"Pure iodoform paste and iodoform containing Vitapex were the most effective materials against the biofilms."
— Katerine Jahnecke Pilownic, MScD, and co-authors
Zinc oxide eugenol (ZOE) cement (S.S. White Artigos Dentários)
Premixed calcium hydroxide (Ca(OH)2) and iodoform paste (Vitapex, Neodental International)
1.0 g of a commercial Ca(OH)2 and polyethylene glycol-based paste (Calen, S.S. White) thickened with 1.0 g of zinc oxide (ZO)
Pure Ca(OH)2 paste
Iodoform paste
The researchers incubated mixed-species biofilm on 36 sterile hydroxyapatite disks in anaerobic conditions for 21 days. They then placed the biofilm specimens in contact with a 0.1-g layer of each of the five materials for periods of seven and 30 days.
Using a laser scanning microscope, the researchers scanned 180 specimens. They used simultaneous dual-channel imaging to display green and red fluorescence from the samples. Viable bacteria reflected green, while those with impaired membranes showed up as red.
The researchers found a statistically significant difference among the groups at both seven and 30 days (p = 0.00). They reported that Calen plus ZO and the paste of pure Ca(OH)2 were less effective against the biofilms after 30 days. Their results are shown below:
Percentage of biofilm killed
Material
7 days
30 days
Vitapex
46%
51%
Iodoform paste
41%
69%
ZOE cement
35%
34%
Ca(OH)2 paste
16%
19%
Calen plus ZO
9%
27%
Sterile water (control)
7%
6%
Iodoform's role
The researchers included pure iodoform and pure Ca(OH)2, both mixed into pastes with sterile water, to help them better understand the role of these compounds in the antimicrobial properties of the combination products Vitapex and Calen plus ZO, according to the authors. As reported above, the iodoform and Vitapex both performed well in the study.
"Our results suggest, in accordance with other studies, that the good performance of Vitapex was due to iodoform, since iodoform alone also resulted in the killing of nearly 70% of the biofilm bacteria," they wrote.
They also noted that this is the first study to report using pure iodoform as an endodontic filling material for primary teeth. However, more studies were needed to determine an ideal material for root canal systems, they added.
"While the antimicrobial efficacy of an endodontic filling material may be vital to achieving success in endodontic therapy, it is not the only property required of an ideal material," the authors wrote.