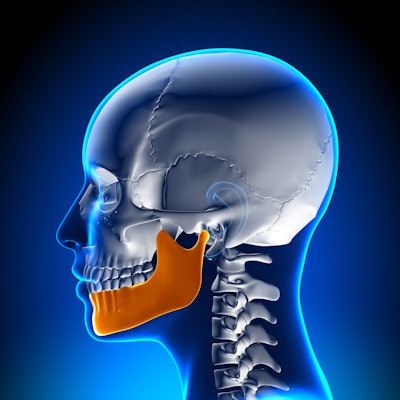 The American Association of Oral and Maxillofacial Surgeons (AAOMS) has updated its guidance on treating medication-related osteonecrosis of the jaw (MRONJ), a rare yet serious condition that can affect cancer patients taking antiresorptive medications.
To help healthcare providers treat this often painful condition in patients, the association released guidance that contains revisions to the diagnosis of MRONJ and management strategies, as well as highlighting the status of current research. The guidance prioritizes preventing disease, continuing cancer treatment, and maximizing patient overall well-being, according to a position paper that was published in the Journal of Oral and Maxillofacial Surgery.
MRONJ is characterized by dying bones in the jaw, swelling of the gums, and the loosening of once-stable teeth.
"The knowledge base and experience in addressing MRONJ continues to evolve and expand, necessitating modifications and refinements to the previously published position papers," wrote the paper's authors, led by Dr. Salvatore Ruggiero, a surgeon and professor at the Stony Brook School of Dental Medicine in New York.
Since 2017, the association has periodically issued guidance that outlines management strategies for patients with, or at risk for, MRONJ. The last position paper was released in 2014.
The guidance includes the following updated definition of an MRONJ case:
Current or previous treatment with antiresorptive therapy alone or in combination with immune modulators or antiangiogenic medications
Exposed bone or bone that can be probed in the maxillofacial region that has lasted more than eight weeks
No history of radiation therapy to the jaws or obvious metastatic disease to the jaw
Another change from past position papers is that new recommendations recognize the value of surgical intervention regardless of the MRONJ disease stage. These procedures involve the removal of necrotic jawbone until clinicians reach viable bone. To assist clinicians in determining the correct treatment plans for individuals, AAOMS has developed a series of algorithms, the authors wrote.
Also, whether patients are receiving antiresorptive medication alone or in combination with immune modulators or antiangiogenic medications, the association supports continued cancer treatment, they wrote.
Furthermore, the new guidance deemphasizes the role of medications other than antiresorptive drugs in causing the condition, according to the position paper.
However, the authors could not reach a consensus on a recommendation related to drug holidays. The authors were split between offering drug holidays to patients on a case-by-case basis using prior recommendations and those who do not recommend drug holidays. Surgeons who do not recommend medication breaks believe that the risks of potential deleterious effects of temporarily stopping antiresorptive therapy may outweigh a benefit, according to the guidance.
Knowing the risks
Reducing the risk of MRONJ requires patients to follow multiple strategies, including maintaining good oral hygiene, performing high-risk surgical procedures before initiating drug therapies, and optimizing diabetes care. Prevention begins with understanding that patients' capacity for wound healing is altered, which is a possible risk factor for developing the condition, the authors wrote.
Other potential predisposing factors include tooth extractions and operations on the thickened ridge of the bone containing tooth sockets. An increased risk of MRONJ also may be associated with steroid and tobacco use, and the risk of developing the condition is higher in those who have taken antiresorptive medications for metastatic bone disease (less than 5%) compared to those taking medication for osteoporosis (less than 0.05%), they wrote.
It takes a team
When it comes to treating patients who are taking antiresorptive drugs, the association reemphasizes that a multidisciplinary approach is key. Healthcare professionals should consult with appropriate dental professionals when it is determined a patient would benefit from these therapies.
Additionally, healthcare professionals must be aware that patients with the condition, or those who are at risk of MRONJ, may present with similar problems. The most misdiagnosed conditions include dry socket, sinusitis, and periodontitis. To prevent a misdiagnosis, patients should undergo a detailed clinical and radiographic examination by an experienced oral healthcare professional.
Nevertheless, more research, specifically prospective studies, is needed to establish the effectiveness of biomarkers and drug holidays or validate a risk relationship with genetic markers and MRONJ, the authors of the paper wrote.
"AAOMS acknowledges the challenge of elucidating potential risks associated with non-antiresorptive therapies, alone or in combination with antiresorptive medications," Ruggiero and colleagues wrote.