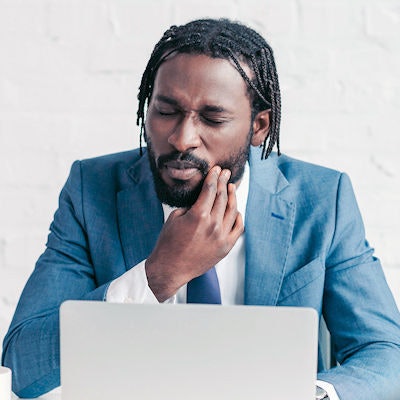 Clinicians are criticizing the American Association of Oral and Maxillofacial Surgeons (AAOMS) for its updated guidance on treating medication-related osteonecrosis of the jaw (MRONJ), questioning the criteria used to identify this rare yet serious condition.
Though the clinical findings, including having a fistula for more than eight weeks or bone exposure, noted in the guidance are relevant, the guidance fails to include research about the existence of other clinical signs linked to MRONJ, clinicians wrote in a letter to the editor published on November 1 in the Journal of Oral and Maxillofacial Surgery.
"We believe that computed tomography (CT) is an essential tool of the diagnostic algorithm of MRONJ and we consider it an oversight to obtain radiographic imaging 'only when indispensable,' as stated by AAOMS," wrote the authors, led by Dr. Giuseppina Campisi, a professor of surgical, oncological, and stomatological disciplines at the University of Palermo in Italy, in the letter.
MRONJ can affect cancer patients taking antiresorptive medications. It is characterized by dying bones in the jaw, swelling of the gum tissue, and loosening of once-stable teeth. To help clinicians treat this condition in patients, the AAOMS released the current guidance, which contains revisions to the diagnosis of MRONJ and management strategies. Overall, the position paper prioritizes preventing disease, continuing cancer treatment, and maximizing patients' overall well-being.
The current guideline was published in October, and the last position paper released before this was in 2014. The AAOMS periodically has issued guidance outlining management strategies for patients with, or at risk for, MRONJ since 2017.
In their letter to the editor, Campisi and colleagues note that AAOMS recognizes different MRONJ classification systems, including the Italian staging system, which is based on appropriate imaging, but the authors question the association's assertion that overemphasizing variable radiographic features can overestimate true disease frequency. Campisi and fellow authors call AAOMS' statement an "unsubstantiated claim," since it was based on a 1995 study about avascular necrosis of the hip yet ignores a 2017 article that proposed another MRONJ staging system that includes imaging.
With two decades of research accumulated since the first discovery of MRONJ, there can be a balance between the underestimation and the suspected overestimation of the incidence of this painful jaw condition, they wrote.
"Indeed, the addition of imaging in the diagnostic work-up, to exclude dental and bone diseases with similar clinical manifestations to MRONJ, would facilitate the adoption of a broader definition of MRONJ, based on coexistence of clinical and CT signs," Campisi et al concluded.