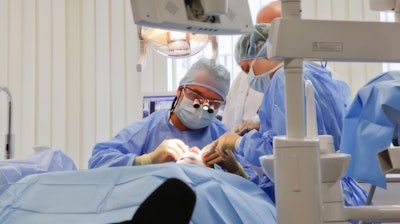 Nasal septum deviation may occur in about 4 in 10 patients after undergoing orthognathic surgeries to correct the position of the maxilla and skeletal malocclusions, according to a study published on July 6 in the Journal of Oral and Maxillofacial Surgery.
Since Le Fort osteotomies may significantly affect a patient's facial appearance, including nasal changes, oral surgeons should be aware of the complications as well as preventive surgical techniques, the authors wrote.
"Patients should be carefully examined preoperatively and warned about nasal changes and the risk of nasal septum deviation," wrote the authors, led by Dr. Canay Yilmaz Asan of the department of oral and maxillofacial surgery at Erciyes University in Kayseri, Turkey.
Insufficiently reducing nasal cartilage and/or the bony crest of the maxilla during Le Fort I surgery may cause a patient's nasal septum to displace from the midline. A deviated septum may cause aesthetic and functional problems, including aberrant columellar positioning, nasal tip deviation, and nasal obstruction.
Though the literature includes many studies that have explored the effects of Le Fort osteotomies on the form and function of the nose, only a handful of studies with a limited number of patients have investigated how the procedure affects nasal septum deviation, according to the study.
To examine the effect of different maxillary movements on the nasal septum following Le Fort I osteotomies, the authors reviewed 154 cone-beam computed tomography (CBCT) images of 77 patients who underwent the procedure. Of the patients, 28 (37%) had a reduced septum angle after surgery. This rate is higher than the one cited in previous studies, the authors wrote.
Furthermore, the average nasal septum angle was significantly smaller preoperatively (166.2° [standard deviation (SD): 157.1° to 172.15°]) than postoperatively (168.7° [SD: 131.5° to 180°]) across subjects (p = 0.031). The septal angle decreased in 28 patients, and the rate of postsurgical angular change was higher in those with both advancement and impaction during the procedure (p = 0.014), they wrote.
Nevertheless, the study had limitations, including its retrospective nature. The researchers could only evaluate septum deviation from CBCT images, and, therefore, could not evaluate clinical signs and airway and breathing comfort, which also can affect nasal appearance, the authors wrote.
Since the findings suggest that forward and upward movements of the maxilla can worsen nasal septum deviation, it is vital that oral surgeons manage the bony and cartilaginous parts of the nasal septum and the nasal crest of the maxilla during a Le Fort I osteotomy. This approach may prevent negative changes in nasal appearance and airway compromises after surgery, they wrote.
"In conclusion, orthognathic surgery has an evident impact on the patient's facial appearance, including nasal changes," Asan and colleagues wrote.