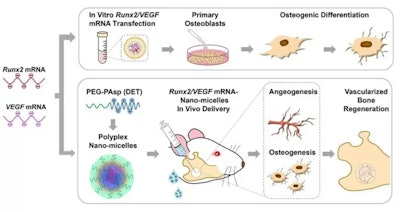 A group at Tokyo Medical and Dental University (TMDU) suggests that bone repair can be improved in large bone lesions by injecting a combination of RNA, according to recent research.
In a study in rats, the researchers demonstrated that injecting RNA encoding two different proteins involved in bone repair improved bone regeneration over large areas. They noted the finding could translate well into the clinic.
"Our technique is especially promising for clinical use because of the coating that we used for the VEGF and Runx2 RNA," explained lead author Maorui Zhang, in a news release from the university.
Previous research has shown that vascular endothelial growth factor (VEGF) and Runt-related transcription factor 2 (Runx2) are two important proteins involved in bone regeneration. In this study, the group injected messenger RNA that encodes VEGF and Runx2 into rats with large jawbone lesions.
After three weekly injections, the jawbones of these mice were almost completely healed, unlike those of control mice, according to the findings. The key to the study was the coating on the RNA, the researchers noted.
"Many previous studies have used lipid nanoparticles, but this coating leads to inflammation, limiting its clinical use. We used a coating that we had developed previously, known as polyplex nanomicelles, which leads to very little inflammation," Zhang said.
Ultimately, although bones have the ability to regenerate and repair themselves, they are generally unable to do so when the injury is larger than a small break or chip, and the study provides new hope for patients with large bone lesions as a result of injury or surgery in whom bone repair is often difficult to achieve, the researchers concluded.
The full study was published in Inflammation and Regeneration.