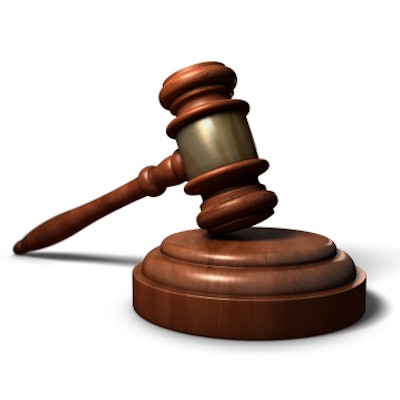 A North Carolina oral surgeon must pay $4 million in a civil suit filed by one of his former patients who accused him of sexual assault while she was sedated, according to news reports. The surgeon had been suspended from practicing since he was arrested for allegedly sexually assaulting about 20 patients while they were sedated.
A judge ordered Michael Lee Hasson, DDS, to pay a $4 million default judgment to one accuser, who filed a lawsuit against him in June 2019. The judgment was filed on behalf of the accuser, who is only being identified as "Doe" to protect her identity because neither Dr. Hasson nor his legal representation responded to the lawsuit within the required 30 days.
His accuser will receive $1 million in compensation and $3 million in punitive damages, which are not ordered often. When they are, it is typically done to make a statement and deter others from engaging in similar activities.
Dr. Hasson operated Wilmington Oral Surgery until the sexual assault allegations led to him shuttering his business in January 2019. He faces about 30 criminal charges, including three counts of felony indecent liberties with a child, 17 counts of misdemeanor sexual battery, one count of felony statutory rape, and nine counts of felony second-degree forcible sex offense. He remains on house arrest and is expected back in court for the criminal cases on March 9.
Dr. Hasson's arrest followed the North Carolina State Board of Dental Examiners suspended his license pending an investigation. A judge also ordered him to stop seeing patients.
The plaintiff in the civil case claimed that she went to the dental practice in January 2019 to have her third molars extracted. Immediately after the IV was placed in her arm, Dr. Hasson entered the room. The patient claimed that Dr. Hasson grabbed her hand and used it against his groin area and said, "You're going to feel real good in a second." Sometime after she was sedated completely, she briefly regained consciousness and saw that Dr. Hasson was touching her under her bra, the plaintiff claimed. However, the patient alleged that she was too sedated to try and stop him.
She reported the incident to police, which ultimately led to Dr. Hasson being arrested on charges that he assaulted her and several other patients. Dr. Hasson faces charges involving 23 alleged victims between the ages of 12 and 69, starting in 2017. The victims were considered "physically helpless" at the time of their assaults, according to investigators.
"Doe" said the incident led to her experiencing permanent emotional distress and damage, including recurring thoughts and nightmares and prolonged anxiety resulting in feelings of detachment from her husband and young children.