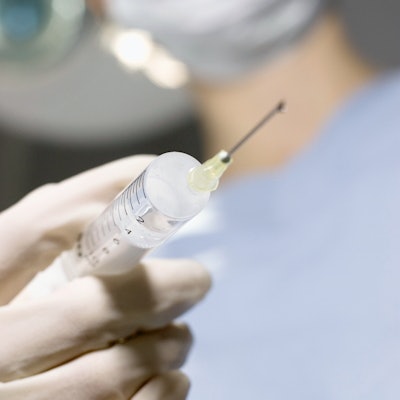 Dental Dose is a twice-monthly video series featuring pharmacologist Tom Viola, RPh. In each episode, Viola shares bite-sized pieces of dental pharmacology news, facts, and myths.
Mepivacaine, better known by the brand name Carbocaine, has a reputation as the "safe" anesthetic in dentistry, according to pharmacologist Tom Viola. In the latest episode of Dental Dose, Viola shared why the anesthetic earned this reputation and explored the truth behind the sentiment.
Mepivacaine's claim to fame is that it's an epinephrine-free agent. But that's not the only benefit of the agent, Viola said. It's also stronger, with a 3% concentration, and has an onset time of only 1.5 to two minutes.
Another benefit is that mepivacaine has less acidity because it's packaged without epinephrine. This makes it a great agent for what Viola calls "piggypacking" -- the practice of using two different types of anesthetic agents during a procedure.
"So now if you add another cartridge of mepivacaine or another anesthetic agent -- let's say lidocaine -- that anesthetic agent would work faster and 'better' because the pH of the tissue is not as low," he said.
Of course, mepivacaine is best known for being plain. But one of its biggest strengths is also its greatest weakness.
"The downside is that it's fast acting, but it's also short lived," Viola said.
Mepivacaine is also one of the most difficult anesthetic agents to metabolize, he noted. That means the types of patients who most benefit from a plain anesthetic, such as pediatric and geriatric patients, may also have more difficulty breaking it down, especially in high doses.
"You need to be cautious of who you administer it to," Viola said.
Learn more about the strengths and weaknesses of mepivacaine in the episode below.