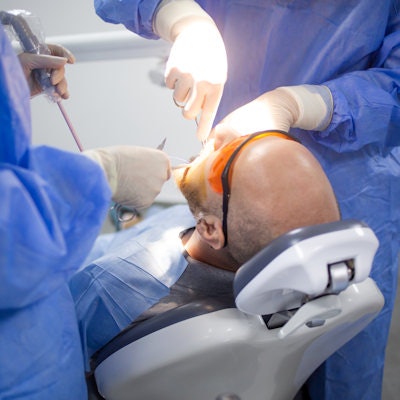 Using saline irrigation with saline at lower temperatures when removing bone during impacted third-molar surgery may reduce patients' pain and other postoperative complications, according to the results of a clinical trial published in the Journal of Oral and Maxillofacial Surgery.
Patients experienced less pain, lower levels of trismus and swelling, and took fewer analgesics when irrigation using 4° C saline was used compared to saline irrigation at warmer temperatures, the authors wrote.
"In the impacted third-molar surgery, the use of cooled saline irrigation during bone removal may be a simple, inexpensive, and effective method for reducing early postoperative complaints," wrote the authors, led by Dr. F. Gülfeşan Çanakçi, PhD, of Trakya University in Edirne, Turkey (J Oral Maxillofac Surg, August 29, 2022).
Wisdom tooth surgery is one of the most performed procedures, and the most common postsurgical complaints are pain, trismus, and facial swelling, all of which can affect a person's daily activities.
When bone is being removed during the procedure, friction between the rotary bur and the bone generates heat. The increase in excessive heat can cause local bone necrosis, healing delays, and a rise in postsurgical complications.
During osteotomies, an increase in bone temperature to 47°C is considered the critical limit. Irrigating the surgical area with a cooled saline solution is routinely used during bone removal with a rotary bur to avoid osteonecrosis.
To compare the intensity of postoperative pain, facial swelling, and trismus following wisdom tooth surgery, a double-blind, single-center, split-mouth, randomized prospective clinical trial was conducted on 48 patients with healthy bilaterally asymptomatic mandibular third molars. To compare postsurgery complaints, irrigation was performed on patients using saline at temperatures of 4°C, 10°C, or 25°C. A statistical analysis was then conducted.
A total of 96 bilateral impacted third molars were pulled from each patient in two different surgeries. In each patient, irrigation was done with saline at 4°C or 10°C for one molar, and the other impacted third molar underwent irrigation with 25°C saline during a second surgery performed 21 days after the first procedure.
One oral maxillofacial surgeon performed the procedures with inferior alveolar nerve, lingual, and buccal nerve blocks using a local anesthetic containing 0.006 mg/ml adrenaline hydrochloride and 40 mg/ml articaine hydrochloride. Osteotomies were made with a 1.6-mm round bur attached to a surgical high-speed handpiece at 20,000 rpm under saline irrigation at the predetermined temperatures.
In the surgeries in which 4°C and 10°C saline irrigation was used, pain perception by visual analog scale (VAS) and the number of pain relievers taken were significantly lower (p <0.001) compared to the surgery done with 25°C saline irrigation. Moreover, the 4°C surgeries showed lower VAS values and the number of analgesics taken compared to the 10°C group (p <0.001), the authors wrote.
Additionally, the lowest trismus and facial swelling values were recorded in procedures in which 4°C saline irrigation was used (p <0.001), according to the study's authors.
The study had several limitations, including that the bone density surrounding the impacted teeth was not evaluated. Bone density is not only a factor affecting postsurgery morbidity, but it is different for every individual. Therefore, the heat generated during the removal of bone may vary, which may affect postoperative complications, they wrote.
Irrigation using colder saline may be an easy, cost-effective way to reduce postsurgery complications since it requires nothing special other than a refrigerator, the authors wrote.
"The use of cooled saline irrigation (both 4°C and 10°C) was more effective than saline irrigation at 25°C in alleviating the postoperative morbidity and reducing the total number of analgesics taken," Çanakçi and colleagues concluded.