A woman who underwent oral surgical procedures for persistent tooth pain and oral ulcers was diagnosed with Munchausen syndrome after clinicians found no medical evidence of her symptoms. The case report was published in Special Care in Dentistry.
Dentists should suspect Munchausen syndrome, also known as factitious disorder imposed on self (FDIS), in patients presenting with a vague and elaborate history that isn't explained by clinical exams and imaging, wrote the case study's author, Yazan Hassona of Amman Al Ahliyya University in Jordan (Spec Care Dent, October 6, 2023). FDIS is a psychological condition in which a person fakes medical symptoms to receive treatment.
"Oral presentations of FDIS are infrequently reported, and diagnosis might be challenging because affected patients often have impressive skills in fabricating symptoms and deceiving healthcare professionals," Hassona wrote.
A 53-year-old woman with a toothache and ulcers
Initially, the woman presented with a one-year history of a generalized toothache and painful mouth ulcers. Her medical history included fibromyalgia, chronic fatigue syndrome, systemic lupus erythematosus, and Parkinson`s disease, all of which were diagnosed during the past five years at different hospitals within her country and abroad. Also, she was taking methotrexate, levodopa, and various analgesics, including nonsteroidal anti-inflammatory drugs such as acetaminophen, and codeine, according to the case.
The clinician noted that she seemed apprehensive when discussing her problems and talked about them in a dramatic way, Hassona wrote. Additionally, the woman reported that she had several consultations about her mouth problems and had taken antibiotics, used prescribed mouthwashes, and applied topical and systemic steroids in addition to taking over-the-counter drugs and using home remedies with no improvement, Hassona wrote.
At the visit, her vital signs were normal, and her dental exam was unremarkable. Imaging and vitality testing failed to show caries, tooth or root fractures, periodontal pockets, tooth surface loss, or any other dental condition. Therefore, persistent dentoalveolar pain was considered as a diagnosis. Additionally, the woman's toothbrushing seemed to be atraumatic. She reported no history of dental trauma, and lab tests showed nothing remarkable.
Several months later, the woman returned with the same symptoms, as well as having difficulty eating, speaking, and sleeping caused by her oral complaints. She said this issue prevented her from attending her work. Also, during the last several months, she underwent a root canal that she said didn't improve her symptoms.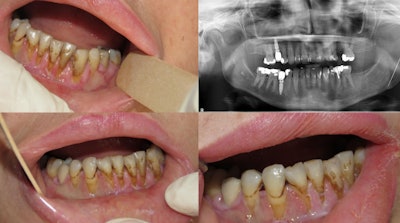 A clinical exam was done and nothing remarkable was found. She was told her pain may be of psychogenic origin and that she should visit a chronic pain clinic. She didn't attend the consultation appointment, Hassona wrote.
A year later, the woman visited an emergency department at another hospital due to the same complaints. At this time, the woman had multiple missing teeth. They were extracted at different clinics to relieve her pain.
A thorough review of her medical records revealed multiple hospital admissions during the last two years. The woman was admitted for episodes of hypotension, a urinary tract infection, a recurring gluteal abscess, headaches, limb weakness, convulsions, and confusion. Additionally, the woman had multiple consultations, admissions, and surgical interventions performed in different hospitals across the country. A panel of expert physicians reviewed her previous investigations and clinical presentation at the various hospitals she visited. No lab, clinical, or imaging backed up the medical history she reported, the author wrote.
"At this stage, the diagnosis of FDIS seemed prudent and the patient was informed that there is abundant evidence that her general and oral symptoms are fraudulent," Hassona wrote. "The patient, however, denied this diagnosis and requested to leave the hospital."
5 signs that may indicate a patient has FDIS
The following suggest a person may have FDIS:
A patient presents a medical history in a dramatic, inconsistent, or vague tone.
Clinical, imaging, and lab exams fail to explain a patient's symptoms.
A patient presents with a complex medical history that is unsupported by health records.
A patient's symptoms don't improve following appropriate therapy or interventions, or conditions worsen.
Despite clinical or radiographic evidence showing adequate intervention, a patient presents with a history of multiple failed interventions.
Dentists who suspect or confirm a patient has Munchausen's should consult with mental health professionals, since it may be challenging to communicate with the person. They may become irritable and anxious if confronted with this diagnosis, the author wrote.
"Furthermore, dentists should address dental concerns of affected patient conservatively and avoid any investigations or interventions that is not adequately supported by objective clinical findings," Hassona wrote.