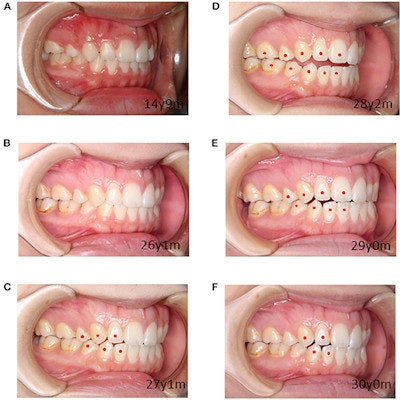 A 27-year-old woman developed an open bite when she took the atypical antipsychotic aripiprazole, and her malocclusion worsened as her medication dosage increased, according to a case report recently published in Frontiers in Psychiatry.
The abnormal tension of the patient's masticatory muscles induced by the antipsychotic was associated with her developing the open bite, the authors surmised. It is believed to be the first case of aripiprazole-induced open bite as a symptom of extrapyramidal side effects.
"Drug-induced open bite should always be considered as a cause that can be removed before orthodontic treatment," wrote the authors, led by Dr. Takahiko Nagamine of Tokyo Medical and Dental University in Japan (Front Psychiatry, September 6, 2022).
A 27-year-old woman with an open bite
At age 12, the patient had orthodontic treatment due to malocclusion. After two years of treatment, she wore a removable retainer for three years. After completion of the retention period, she was seen every year, and her teeth and occlusion remained in good condition, they wrote.