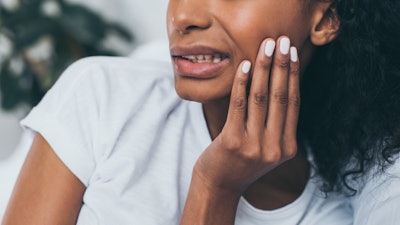 The University of California, Irvine (UCI) has received a $6 million grant from the California Institute for Regenerative Medicine to conduct a preclinical trial for an engineered neocartilage implant designed to treat defects of the temporomandibular joint (TMJ).
Researchers from the university's department of biomedical engineering -- led by Kyriacos Athanasiou, PhD -- will use the funds to develop and test Hyaleon, an implant developed by UCI startup Cartilage Inc.
Up to 25% of adults are affected by a TMJ pathology, with the severity of the effects ranging from minor to debilitating. The condition can affect a person's ability to speak and chew, and 70% of complications involve displacement of the fibrocartilage TMJ disc, the university said in a statement.
TMJ pathology is often treated with injected drugs or other nonsurgical interventions, but these offer only temporary relief, according to Athanasiou. Removal of the TMJ disc is an accepted surgery for treating the condition, but it can decrease patients' quality of life.
"Total joint replacement is performed for end-stage cases, but this is considered to be a drastic step," Athanasiou said. "What has been needed is an approach that allows for the regeneration of the tissues of the TMJ disc complex without having to resort to total joint replacement, and that's the gap that our Hyaleon engineered neocartilage implant fills."
Animal studies have shown the following regarding the effectiveness of the Hyaleon implant:
A more than four times better defect closure of focal partial-thickness defects compared to controls


Achievement of focal full-thickness repair that was more than six times tougher, nine times more resilient, and 3.5 times stronger than controls


A complete filling of large full-thickness defects, with regenerated tissue possessing up to 81% of native tissue properties, whereas controls remained unhealed
Athanasiou's team will use the grant to fund a 30-month initiative to develop Hyaleon for the market. This process will entail creating cell banks from human donors, completing investigational new drug preclinical animal studies and submitting an application to the U.S. Food and Drug Administration, developing a container system for shipping Hyaleon, and implementing clinical trials.
"This next phase will be intense and place a lot of demands on my research group, but we are prepared for the challenge," Athanasiou said. "We thank CIRM, California's stem cell agency, for funding our work to prepare Hyaleon for clinical trials."